Dave Pirner Reveals the Roots of Soul Asylum's Unstoppable Hit "Runaway Train"
The story behind the ballad that briefly turned Soul Asylum into multi-Platinum stars.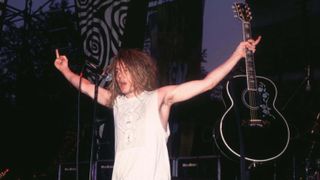 (Image credit: Steve Eichner/WireImage)
"Of all the songs I've written, this one sure has legs," singer-guitarist Dave Pirner says about "Runaway Train," the 1992 lush rock ballad that briefly turned his cult-favorite alternative punk band, Soul Asylum, into multi-Platinum stars.
"It's hard to understand why one song out of hundreds that I've written still gets played on the radio so much," he says. "But to a lot of people, it's a special song, so it's not for me to have a say in the matter. The song belongs to everybody."
Soul Search
By the end of the 1980s, Soul Asylum were facing difficult times. Having released a string of critically hailed indie albums, they signed with A&M Records and issued three discs that failed to sell.
To make matters worse, Pirner was suffering from hearing issues, and the band (which also included guitarist Dan Murphy, bassist Karl Mueller and drummer Grant Young) considered breaking up.
"Things were really hard," Pirner says. "I thought I was going deaf, so I withdrew from playing loud electric music and started writing on the acoustic guitar. It turned out to be a pivotal move for both me and the band, and things began to improve on all fronts."
Around this time, Pirner kept coming back to a song idea that wouldn't let go. "It was based around the words 'two souls,'" he remembers. "'Two souls laughing at the crazy rain.' I was writing about myself and what I now know was undiagnosed depression.
"It took me a while to get the whole thing down. I kept strumming and strumming, and then I connected the lyrics to the runaway train concept. After that, I pretty much wrote it all on a napkin."
While shopping for a new record deal, Soul Aslyum played a few low-key gigs at which they performed "Runaway Train." "I could see a reaction from people when we played it," Pirner says.
A cassette of their new demos made the rounds at labels, and Pirner recalls executives saying, "You're supposed to be a punk band. Why are you making this 'down' music?"
Columbia Records, however, recognized the hit potential and maturity in the new songs and signed the group to a multi-album deal.
Hitting Their Stride
Once in the studio with producer Michael Beinhorn (riding high after helming the Red Hot Chili Peppers' Mother's Milk), Soul Asylum hit more snags: Grant Young was sidelined in favor of session ace Sterling Campbell, and the band had difficulty channeling its punk-rock energy into Pirner's acoustic-based songs.
"It took a while to hit our stride again," the guitarist says. "We wasted a lot of money in studio time."
"Runaway Train" took multiple takes to get right, but as Pirner notes, somewhat ironically, the rousing, richly textured version on the album Grave Dancer's Union remained almost "100 percent true" to his original demo.
"The big difference was my acoustic guitar sound," he says. "In the studio, I rented this beautiful Gibson J-200. It sounded amazing. I still play that guitar to this day."
Runaway Hit
Released as the third single from Grave Dancer's Union, "Runaway Train" raced to number five on the Billboard Hot 100, and its emotionally charged video that focused on missing children seized the public's attention.
"I can't overstate the power of the video," Pirner says. "A lot of missing kids were found because of it, so to have played a part in that, it's beyond amazing. I met a couple of those kids and their parents at shows. What a unique experience."
The song's success caught Pirner by surprise – "I thought it sounded good, but I never knew it would be a hit," he says – and he was conflicted when it won a 1994 Grammy for Best Rock Song. "The idea that they give you an award for writing a song seemed very strange to me," he says.
For a few years, he refrained from playing "Runaway Train" at shows but eventually put it back in the band's setlist after. "Everybody was mad at me," he says of the omission.
"I had people come up and say, 'We traveled miles to see the show, and we really wanted to hear that song. My kid wanted to hear it. My wife wanted to hear it. Why aren't you playing it?' After a while, I was like, 'Okay, I get it. Everybody wants it, it goes back in.'"
All the latest guitar news, interviews, lessons, reviews, deals and more, direct to your inbox!
Joe is a freelance journalist who has, over the past few decades, interviewed hundreds of guitarists for Guitar World, Guitar Player, MusicRadar and Classic Rock. He is also a former editor of Guitar World, contributing writer for Guitar Aficionado and VP of A&R for Island Records. He's an enthusiastic guitarist, but he's nowhere near the likes of the people he interviews. Surprisingly, his skills are more suited to the drums. If you need a drummer for your Beatles tribute band, look him up.