Daniel Donato Checks in From Cosmic Country to Share His Secrets to Six-String Success
Donato talks social media strategies, chasing tones, channeling Jerry Garcia, and recording with Robben Ford.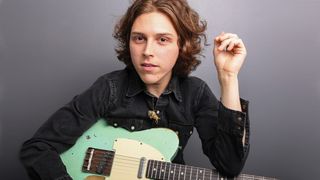 (Image credit: Daniel Donato)
You say you want to be a successful guitarist in the modern music economy? It's simple, but not easy. First be a virtuoso, then tour relentlessly, and along the way master social media in all its forms. In other words, be like Daniel Donato.
Donato's six-string mastery was forged through years of playing four nights a week, four hours a night, in the crucible of Nashville's Broadway, beginning at age 17. The guitarist then toured America and Europe developing a brand of music he calls "Cosmic Country," until he was selling out shows in both places.
Along the way, he garnered tens of thousands of followers on Instagram, YouTube, and Facebook. All of this has led to a rapid rise for his latest record, the Robben Ford–produced A Young Man's Country (Cosmic Country Music).
"Our record is one of the top-four promoted releases across the entire folk category on Spotify," he says. If Donato sometimes talks as much like a marketing director as a musician, he seems genuinely comfortable in both roles. "I post content at least three times a week and make sure I have a distinct way of communicating," he explains. "I always listen to my fan base."
He has learned the crucial differences between the various platforms through experience. Though the songs on his new record have, to date, garnered more than 500,000 plays on Spotify, the three accompanying videos have fewer than 23,000 views combined.
"Artists assume if they like something, the fans are going to like it too," he says. "But often, the fans do not care. My fans preferred a video of me hanging out with Joe Bonamassa, playing Telecasters. So we try to create incentive-based opportunities for everybody who joins the Cosmic Country Club, so we can keep bringing more people into our circle."
Switching to his artist hat, Donato talks just as effortlessly about having guitarist Robben Ford as a producer.
"He wasn't involved in the vocals and harmonies but rather in ways that featured his strengths as a guitar player," Donato says. "He gave me an idea to play on one song's verse. Other times it was just, 'Okay, let's go on to the next one,' or 'Let's slow this down.'
"He knows when a take is good and has energy, so it was his judgment as to which one we used. We did four takes of each song, and sometimes the first take was the one. I would ask, 'Are you sure?' 'Absolutely, I'm very sure,' would be Robben's response. He is very confident in his production style. He also allowed the character of the record to shine."
Ford's years of experience recording great guitar tones certainly came into play. He lent Donato his legendary Dumble amplifier, which became the main amp for the project, along with a Fender Vibrolux. Ford also advised the young player on effects and studio techniques.
"We put multiple microphones close to the amplifiers, and a microphone in the back of the room that was crushed with parallel compression, so anything that hit it had a nice overdriven sound," Donato says.
"We mixed those tones for a crisp clean layer, with a tube-driven distortion and overdrive from the far mic blended in. It's a more analog sound than just using an overdrive pedal to simulate tube saturation. We recorded to tape and did it all with outboard hardware.
"It's a real Robben Ford production. It's almost like the guitar sounds came from a different era." In the studio, Donato used his road band, which included rhythm guitarist Nicholas Fry, allowing rhythm and lead guitar to go down live.
"The rhythm needs to have a soul, just like the lead playing," Donato explains. "The way Nick played rhythm guitar was crucial to the process. He understands where I want to take things dynamically and harmonically. He communicates that to the rest of the band in a way I can't when I'm soloing."
Though there is a jam component to the music, Donato's songs have distinct arrangements, with precise hits and tempo shifts. These were worked up on the road in advance of recording.
"We went in after more than 100 shows last year," he explains. The road also taught the bandleader what his audience likes. "It's most fun for us to play when the audience is most receptive. We left some songs off the record that haven't consistently gotten a great response live."
Older readers may recall the Cosmic Country of New Riders of the Purple Sage and the Flying Burrito Brothers. Donato has his own definition.
"Cosmic means it's inconceivably vast," he explains. "Cosmic Country is jam-band country music. I don't like gigs where I know everything that's going to happen. I'm always trying to approach music with a sense of exploration and not as a thing I arrive at."
You can't talk about jam bands without raising the specter of Jerry Garcia, and on tunes like "Fire on the Mountain" and "Meet Me in Dallas," the guitarist nails the Grateful Dead icon's sound.
"Growing up when I did, I could listen to every Dead show and watch every YouTube video to understand where and how Jerry was using all those tones and try to apply them to my musical approach," Donato says.
"I use .010 to .046 or .052 Ernie Ball Cobalt strings and acrylic Gravity guitar picks. The Jerry sound is about running a clean, compressed tone and an envelope follower like the EHX Q-Tron. The way I set my Fender amps is bass at two and treble at three. I don't use any amp reverb and set the volume at four when we're recording.
"On 'Fire on the Mountain' and 'Meet Me in Dallas,' I'm using a Paul Reed Smith Special 22, which is such a Jerry Garcia–sounding guitar. It's basically one model short of what John Mayer uses in Dead & Company. For the others, I use my Seafoam Green Fender Telecaster that I've been playing for years."
The phase-shifter effect that was a staple of '70s country guitar, and has been making a comeback lately, features heavily on A Young Man's Country.
"I use the Seymour Duncan Polaron Analog Phase Shifter pedal," Donato reveals. "It doesn't have a Small Stone or MXR sound. It seems to have its own." Turning out a slamming, guitar-filled record with catchy tunes and live energy is no guarantee of success in 2021, even with 90,000 Instagram and 10,000 YouTube followers.
The question becomes, How do you turn those fans into 90,000 ticket or album buyers? Here Donato switches back into marketing mode.
"You put out content that works for the psyche of the user on each social media platform," he explains. "My fans often go to Apple, YouTube, or Spotify, so I make sure I have a fantastic piece of Cosmic Country content they can consume on those platforms. For fans on TikTok, I have shorter, TikTok-style content.
On YouTube, we do reaction or unboxing videos. On Spotify we have an album with lots of guitar notes and interesting tones, produced by Robben Ford. I try to take whatever Cosmic Country is and communicate that officially across all platforms, while being as honest and truthful to myself as I can."
Unlike many musicians, who consider the marketing of their music a necessary evil, Donato chooses to embrace that experience with the same gusto he brought to learning his instrument.
"I'm into the concept of how the brain releases dopamine," he says. "They do MRIs on people who are listening to radio, music, watching video of a show or listening to a podcast. Each of these different platforms gives us a different drug." Yes, he does a podcast as well.
"Where there's an audience that's growing over 300 percent in one year, you would be insane to not throw your hat in the ring and bring value to consumers there," he says. "We're in a fantastic time where we don't need to imagine where the audience is, because the numbers are available. I've always loved podcasts, and I talk so much that it's a great platform for me."
Not all platforms are equally suited to all artists. "It depends on who you are," he says. "Joe Bonamassa's biggest platform is Instagram or Facebook. For me Instagram, YouTube, Facebook, and the podcast are important. But Instagram is definitely the biggest priority."
Many artists have a staff that handles their social media but Donato does it all himself, which begs the question, Where does he find the time? "I just try to keep a cool head and work really hard," he says. Recent events have revealed just how difficult it is to predict the future, but Donato's optimism and career track remain intact.
"A couple of people I trust say we're going to be touring by May or June of next year at small capacity," he says. "I'm willing to accept that. I want to eventually sell out the [Nashville] Ryman Auditorium. I'm not sure when, but nobody can say I'm not a patient person, because I've had that same goal since I was 14, and I'm now 25." '
Daniel Donato's new album, A Young Man's Country, is out now via Cosmic Country Music.
All the latest guitar news, interviews, lessons, reviews, deals and more, direct to your inbox!