Colin Newman and Matt Simms on the Glorious Noise in Wire's Punk Sound
Returning with 'Mind Hive,' the seminal British band have lost none of their fire and fury, nor their contempt for convention.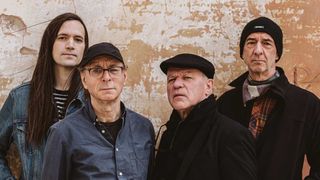 (Image credit: Giuliana Covella)
Wire have never been easy to categorize. Rising from the British punk explosion in 1977, the band achieved critical acclaim with their debut album, Pink Flag, which showcased their uniquely off-kilter take on rock and pop music traditions.
But Wire's sound evolved quickly from the spiky, subversive, stiletto-like thrusts of their debut album into longer and more ambitious textural pieces where keyboards and echo-drenched guitars fought for space in a sonic landscape sporadically punctured by sharp, angular jabs of guitar.
Remarkably, Pink Flag had a huge influence on U.S. hardcore artists like Minutemen, Fugazi and Henry Rollins, while indie-rock bands like Sonic Youth and Guided By Voices have also indicated Wire's influence on their music.
"Pink Flag was one of the few U.K. records from that punk period that got full U.S. distribution," notes founding guitarist and vocalist Colin Newman. "Of course, in the U.K., punk had been much more influential than in America, and the DIY 'form a band quickly' notion, which inspired us, was commonplace there by '78. It took longer to catch on in America."
Wire worked sporadically in the '80s and '90s before reforming as a full-time group in 1999. Their latest, and 17th, studio album, Mind Hive (Pinkflag) finds Newman, guitarist Matt Simms, and co-founders bassist Graham Lewis and drummer Robert Grey spinning out incisive tunes that combine tense and ominous moods with sparkling guitars, grinding grooves and unease-provoking imagery.
Newman and Simms spoke with Guitar Player about the group's influential history and the inspirations behind their latest effort.
Has the name-checking by American artists you've influenced helped you build an audience in the U.S.?
Colin Newman: Yes and no. I suppose "celebrity" endorsements can cut both ways. If you don't like the artist plugging the band, you're probably not going to check them out. Having said that, when our album The Ideal Copy came out [in 1987], the American licensee put a sticker on the cover with a quote from Michael Stipe of R.E.M. citing our influence, and as they were at the height of their success at that time, I do think it was actually very helpful.
Pink Flag, while clearly in the punk spirit, was actually quite a different album from the work of your contemporaries.
Newman: I actually don't like rock and roll very much, and a lot of the punk bands were still playing music bound by its conventions.
I tried to subvert the concept by writing in different ways, such as reductionism – using fewer chords and brevity – and by using minor chords, which I think is something that really distinguished Wire from our peers. Everybody was thrashing out major barre chords, but the first thing you hear on Pink Flag is a slow song in D minor ["Reuters"].
What got you into music and the desire to play an instrument?
Newman: I was told to play by my childhood friend Desmond Simmons. We formed a band, CNDS – our initials – and he said I needed to get a guitar. I bought a Suzuki copy of a Martin. I've written virtually every song on that guitar.
Matt Simms: When I was starting to play guitar, I took a Sonic Youth track to my guitar teacher, and he realized it was in an altered tuning. He explained that to me, and that sparked my interest in exploring unusual tunings. I invent them to fit the songs, where I can. For about half the songs on Mind Hive, I tuned all the strings to E or B. After I joined the band, I learned that Bruce Gilbert, Wire's original guitarist, also used altered tunings.
Colin, in light of your anti-hero perspective, it's slightly ironic that you play your own signature guitar, the Eastwood Colin Newman Airline model.
Newman: I chose one that I liked from the website purely based on the color, Seafoam Green. I said, "I'd love to get a version of this with piezo pickups to capture the acoustic sound for live performance." They said, "We can do that and make it your signature guitar."
Amp-wise I've been using a Roland JC-40. I was using a JC-120, and it was far too loud for the stage, and with the volume way down it doesn't really get the best out of it. The 40-watt version is much more effective, and it accepts a stereo input.
Simms: I love [Fender] Jazzmasters. I've got two Japanese models. I'd like to get one of the new American models soon. I like the way you can get sounds behind the bridge, the way the tremolo works, and that it can sound bright and aggressive or really warm.
I'm also a big fan of low-wattage amps. I use a lot of pedals, and those amps seem to work better. I recently got a Supro Blues King. I really like how it breaks up in such a musical fashion when it's pushed hard.
Effects play a big part in the Wire sound, don't they?
Simms: Yes. I have so many pedals. Particular favorites would be the Malekko Omicron Fuzz, 616 Ekko and Charlie Foxtrot pedals, as well as the Red Panda Particle and Earthquaker Devices Avalanche Run.
Mind Hive has an interesting mix of commercial, hooky tracks, like "Off the Beach" and "Oklahoma," along with much more groove-orientated tracks, like "Hung." Where does that mix of influences come from?
Newman: I've always been very influenced by the Beatles, particularly their attitude of not being afraid to mix styles. We always had the approach when we made an album of treating every track as if it's a single.
Simms: I think the focus was to put together a track list that made for a cohesive mix. I spent a lot of time sequencing the new album. A few song orders were suggested, but I wasn't convinced by them, so I had a go. And it seemed to work.
How do you work out your guitar parts for the songs?
Newman: I will have written everything beforehand. The rest of the guys don't hear anything before the recording sessions start, as I don't find that useful. I'll tell everyone what the chords are as we go through, and I'll shout out where the verses and choruses are.
Simms: We don't spend a long time working through a song. If something isn't sparking quickly, we tend to move on. There's a lot of intuition and instant feedback between us, but not much discussion about where we think things should go.
Do you like to play guitar every day?
Newman: I only ever play when I have to, either to record, write a song or play live. And I only ever write songs when it's time to prepare the next album. I don't want to overhone my craft. I think Wire is an artistic project. We aren't professional musicians. It isn't about that. It's about trying to translate a vision in the purest way possible.
Simms: I'm always playing. If I've got time to sit down and play, it's the best thing I can do. I think, on that front, Colin and I couldn't be more different.
Recommended Listening: 'Mind Hive'
• "Hung"
• "Humming"
• "Off the Beach"
• "Primed and Ready"
• "Unrepentant"
What are your personal favorite tracks on Mind Hive?
Newman: "Off the Beach," for its audacious pop sensibility, coupled with dark lyrics. "Unrepentant," for that gorgeous big analog-synth kind of sound. "Primed and Ready," because it's so simplistic. "Hung," because you think it's all going to be about the noise, but it gets quieter at the end. And "Humming," because I think if you're not crying by the end of it, there must be something wrong with you.
Simms: "Hung" is an obvious one. It didn't work the first time we recorded it. We all went out for dinner, and when we came back and tried again, it all came together.
"Hung" lasts as long as about six Pink Flag songs combined.
Newman: That's the result of listening to it a lot and heavily editing it down to its final length. It's the longest song, with the least lyrics. It's subtle, as there are chords and notes that continually evolve over an E pedal. It's like the sonic definition of Wire: a layer of beauty over a layer of noise.
Wire's new album, Mind Hive, is out now via Pinkflag.
All the latest guitar news, interviews, lessons, reviews, deals and more, direct to your inbox!
Mark is a freelance writer with particular expertise in the fields of '70s glam, punk, rockabilly and classic '50s rock and roll. He sings and plays guitar in his own musical project, Star Studded Sham, which has been described as sounding like the hits of T. Rex and Slade as played by Johnny Thunders. He had several indie hits with his band, Private Sector and has worked with a host of UK punk luminaries. Mark also presents themed radio shows for Generating Steam Heat. He has just completed his first novel, The Bulletproof Truth, and is currently working on the sequel.