Carrying On: Kansas Guitarist Richard Williams on Making The Prelude Implicit
Williams details his rig and what it was like working with Steve Morse.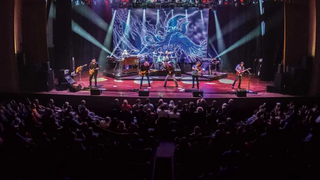 (Image credit: Future)
"Nothing lasts forever but the earth and sky," proclaim the lyrics to Kansas' iconic anthem "Dust in the Wind." That assertion may be debatable from a geological standpoint, but there's no question that Kansas itself is trying to last as long as mortally possible. Since the release of its debut album on Don Kirshner's label in 1974, the band has continued—with one break from 1984-1985—to deliver its eclectic and fastidiously crafted patchwork of hard rock, prog, bluegrass, folk, classical, and boogie-woogie. Onstage, this melting pot of musical influences was often brought to life by multi-instrumentalists who covered electric and acoustic guitars, keyboards, piano, organ, lead vocals, violin, viola, drums, bass, percussion, and xylophone—sometimes all in the same song!
And yet, despite its eclecticism and penchant for long-form, multi-part songs, Kansas scored three rock-radio classics in the mid '70s with "Dust in the Wind," "Carry On Wayward Son," and "Point of Know Return." These, alongside fan favorites such as "Magnum Opus," "Song for America," and "Death of Mother Nature Suite," helped the band sell millions of records and pack arenas across America. The '80s and '90s saw a move towards more streamlined, radio-friendly sounds, as well as various personnel changes that once included guitarist Steve Morse.
The current Kansas lineup is anchored by founding members Richard Williams on guitar and Phil Ehart on drums. They are joined by guitarist Zak Rizvi, bassist Billy Greer, violinist David Ragsdale, keyboardist David Manion, and Ronnie Platt on lead vocals and keyboards.
Here, Williams provides some insights into Kansas' creative engines, as well as how the group's latest release, The Prelude Implicit [Inside Out Music]—its first album of new material in 16 years—charges at the listener with the same "we've got something to prove" urgency as its debut album did more than 40 years ago.
The Prelude Implicit sounds like the classic Kansas albums of the '70s, despite the fact that the band's two original main songwriters Kerry Livgren and Steve Walsh are no longer members. Did you deliberately attempt to revisit your earlier style?
Yes. The goal was to create a quintessential Kansas album, and I feel we've accomplished that in every aspect—from the sound, to the lyrics, to the cover art. Phil and I have been here since the beginning, and Billy and Dave have been onboard a really long time, so we all have a pretty good grip on what "quintessential Kansas" is.
Why so long between studio albums?
We did the album Somewhere to Elsewhere with Kerry and the original lineup 16 years ago, because he had a bunch of songs lying around. It was a lot of fun, but it really wasn't like a band vibe. It was essentially me, Phil, and Kerry in a studio recording in an assembly line process. Steve's parts were essentially flown in, because he was off making a solo record. We continued touring, but Steve and Kerry weren't really in a place where they felt like they wanted to make new Kansas music, so we didn't. After Steve retired in 2014, it left the door open for a new team to come in and create, and, as a result, this is truly a record by a band. While we were making it, we were all together in the studio at all times.
So you contributed to the songwriting and arranging more than on previous releases?
Yes. Sometimes, my contribution would be knowing what not to do. I knew when an idea wasn't working, or if it just wasn't us, and I would lobby for something different
The Prelude Implicit's opening track, "With This Heart," has a 12/8 feel, but with an added beat in some parts to make it 13/8. One of Kansas' earliest songs, "Lonely Street," was a 12/8 blues shuffle, but with a dropped beat to make it 11/8. How did you begin experimenting with odd-meters in your music?
I was in a high-school band with Phil Ehart, and we played a bunch of Top 40 stuff, so we got that out of our systems fairly early. We started to connect with people who wanted to do their own thing, and we began restructuring the covers in our repertoire by adding intros and middle sections and messing with the arrangements. We would play the songs in ways that were more palatable to our taste, because we were influenced by progressive bands like King Crimson and Soft Machine. We related to the fact that they were writing their own rule book. In hindsight, I guess you can say we were learning to be us, so when we started to write our own material, we stretched the boundaries harmonically, rhythmically, lyrically, and compositionally. We didn't just want to write songs—we wanted to write material that was uniquely ours.
Kansas has always been known for its intricate arrangements.
Even though we were schooled on American rock and the British Invasion, we never wanted to sound like a typical rock band. We're not jazz cats, we're not groove-masters, and we're pretty heavy-handed players. Orchestration was always important to us, though, so we wound up sounding like a like a cross between the Philharmonic and Mitch Ryder and the Detroit Wheels. Many of our songs have different sections with completely different textures. Guitar, bass, drums, and Hammond organ will be one part, and the next will be piano, violin, and xylophone. We learned that not every instrument has to be playing all the time. Sometimes, playing nothing works better than just finding a part to play. When everyone plays all the time, the music just starts to flat line and lose dynamics.
How did Zak Rizvi come to join the band?
When we first started recording, Zak was actually producing alongside Phil and me. As the album progressed, he contributed so much as a songwriter and collaborator that Phil and I realized he needed to be part of the team. We're not done being Kansas yet. We're thinking of the next record, and the next record after that, and Zak was really on board with our vision.
How did your style of playing guitar meld with Zak's?
Well, I had already doubled a lot of my parts on the record, but we decided to go back and have Zak re-record my doubles. The difference in sound of having two guitarists play the same part is amazing, because he'll articulate things slightly different than me, or add a different vibrato. I think it sounds so much more interesting and alive than having me just replay the parts by myself.
What was your rig for recording the album?
My setup is pretty simple. I use a Fractal Audio Axe-FX. It's such a monster in the studio, because you're recording parts in minutes instead of spending hours miking different amps. At the beginning of the sessions, I did some tracks with an amp, but after a side-by-side comparison with the Fractal, there was no contest. It's also great for live shows, because we do a lot of fly dates where I can't lug a whole rig around with me.
For guitars, I used a PRS Custom 24 and a PRS McCarty with Lollar pickups. I also used a Telecaster in spots to bring clarity to some of the low-note passages. My main acoustic is a Martin D-28 modeled after the original I played on "Dust in the Wind"—which is now in the Rock and Roll Hall of Fame. Martin loaned me a special model they made to commemorate the song's 35th anniversary, which I played onstage before it was auctioned. After I gave it back, I called Martin and said, "I've got to have another one!"
Speaking of "Dust in the Wind," was the acoustic part doubled with a second guitar in Nashville Tuning [E,A,D,G,B,E, low to high, with the four lowest strings replaced by thinner strings, and tuned an octave higher than standard pitch]?
Yes. It's a subtle but effective technique—especially for fingerpicked parts, because you'll get these high notes popping out in unusual places. Terry Becker, one of the engineers on Point of Know Return, came up with the idea. I'd never heard of it until she suggested it. It's a technique I still use, but now I have a Taylor with a shorter scale, so I don't break so many G strings tuning it up an octave.
What was it like working with Steve Morse as a co-guitarist?
It was inspiring. He had just been voted "Best Overall Guitarist" for the fifth time, and he was enshrined in Guitar Player's Gallery of the Greats. And he was sitting across from me in Phil's basement writing new material. It was really amazing to watch him come up with parts on the fly by playing a bass line with his thumb, triads with his middle fingers, and a melody with his pinky. I never felt intimidated by his genius, though, because Steve is just not an intimidating guy. As a result, he understood that while he could play in many ways I couldn't, I could also play in ways he couldn't. Our relationship was very complementary.
The great thing about Steve is that he is always listening and learning. Once we were watching a cover band that wasn't particularly good. Some musicians would've laughed, but Steve homed in on this particular thing the guitarist was doing with his toggle switch to get a weird sound, and he said, "Look at that. I've never seen anybody do that before." Instead of being critical, he was listening with an open mind.
All the latest guitar news, interviews, lessons, reviews, deals and more, direct to your inbox!
Guitar Player is the world's most comprehensive, trusted and insightful guitar publication for passionate guitarists and active musicians of all ages. Guitar Player magazine is published 13 times a year in print and digital formats. The magazine was established in 1967 and is the world's oldest guitar magazine.
When "Guitar Player Staff" is credited as the author, it's usually because more than one author on the team has created the story.