Carolyn Wonderland Talks Going from the Sidelines to Center Stage
Following in the footsteps of Eric Clapton, Peter Green, and Mick Taylor the Texan powerhouse has filled some of blues guitar's biggest shoes.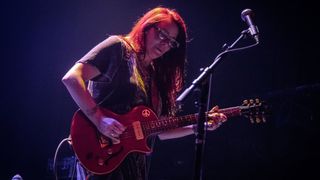 (Image credit: Per Ole Hagen/Redferns)
Carolyn Wonderland hails from Houston, Texas. Besides being a great singer, she is an amazing guitarist and multi-instrumentalist who is also proficient on trumpet, accordion, piano, mandolin and lap steel.
When she's not on tour with her own band, she's out walking in the footsteps of giants like Eric Clapton, Peter Green, and Mick Taylor while touring and playing lead blues guitar with British blues legend John Mayall.
Wonderland released her first album, Groove Milk, in 1993, and issued her latest, Moon Goes Missing, in 2017. Having recently signed to Alligator Records (the "first female guitar hero" in the label's 50-year history) Wonderland's forthcoming long-player, Tempting Fate, is due out on October 8.
When did you first pick up the guitar?
[Early on] I didn't play a whole lot in front of people. I'd play rhythm, but I had Little Screamin' Kenny [Houston guitarist Kenneth Blanchet] playing guitar in the band, and he was one of my favorites, so I kind of thought I was superfluous. But then there'd be gigs where we'd be missing a guitar player, and so I was like, 'Well, okay, I can play the tunes I wrote 'cause I know how they go.'
Eventually, it came to be that I had a tour but no guitar player, and I wasn't gonna cancel it, so I just learned really quickly.
Did you have any musical history in your family?
Oh, yeah. Pretty much everyone on my mom's side plays. My grandma was a steel player, and my pop played ragtime and big-band piano stuff. My mom sang, and she played acoustic guitar in a band called Badlands. So there were always guitars around. I started playing piano when I was about five, and I started writing songs when I was about eight.
You're known and marketed as a blues artist, but you also touch on a lot of styles in your playing, and you seem to draw a lot of creative inspiration from your political and world views. How do you bring that all together?
I play a lot of blues and rootsy stuff as well as soul, gospel and a little country. There's also experimental rock and roll, like my [2003] song "Bloodless Revolution."
A lot of my stuff's been really political, just 'cause that's what's going on and that's what's been speaking to me. My songs of peace are not necessarily just about peace between countries but about peace between folks. I'm trying to find hope or a solution, instead of just pointing out the problems.
The bottom line is, there's no "us and them." We're all us. Even the folks who you think you detest. They're your children, they're your brother, they're your father. They're all of it. So I guess I'm just trying to find a way to be more loving myself.
*** After touring the world with John Mayall the past few years, Wonderland has recently signed to Alligator Records and has a new album – Tempting Fate – and tour on the way. Visit carolynwonderland.com for more information ***
All the latest guitar news, interviews, lessons, reviews, deals and more, direct to your inbox!