Bethany Cosentino on How Best Coast Confront Darkness With Power Chords, Melodies and Bittersweet Pop Hooks
Best Coast take their SoCal brand of sunny pop-punk to new heights on 'Always Tomorrow.'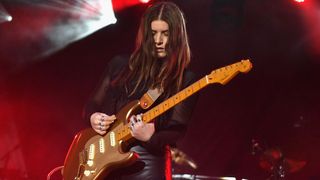 (Image credit: Mike Windle/Getty Images for Airbnb)
"Do you know?" Bethany Cosentino confesses, "when I was first asked about doing an interview for Guitar Player, I was like, 'Don't they know I'm a bad guitarist?'" The frontwoman for the hard-rocking power-pop duo Best Coast lets out a laugh before admitting that she is her own "harshest critic."
While Cosentino doesn't play flashy lead licks or engage in over-the-top technical acrobatics on her instrument, she excels at something more engaging: writing and playing radiant, hook-filled guitar pop.
For proof, one need look no further than Best Coast's three studio albums - 2010's Crazy For You, 2012's The Only Place and 2015's California Nights - which are packed with some of the catchiest guitar-driven pop-rock of the past decade.
On their brand-new release, Always Tomorrow (Concord Records), Cosentino and Bobb Bruno, her multi-instrumentalist musical partner, up the ante with a harder-rocking, more sharply focused attack.
The album is packed with 11 all-killer, no-filler tracks, like the swirling opener "Different Light," the chunky, stomping lead single "Everything Has Changed" and the grunge-pop confection "Graceless Kids," all of which explode with vibrant Technicolor riffs and melodies, and irresistibly catchy choruses.
It's music that, at various moments, sounds indebted to everyone from the Beatles and the Beach Boys to Cheap Trick, the Cars, the Go-Go's, the Bangles, Weezer and Blink-182. Every tune is doused with Southern California sun and filtered through an indie-rock lens, even when the vibes are decidedly downcast.
Consider "Everything Has Changed," which, despite its major-key chord progression and lyrics about overcoming drinking and depression, was written while Cosentino was battling both.
"At the time, I just felt life was so hard," she says. "But I wrote this song that was completely the opposite of the life I was living. And, thankfully, I've ended up with that life, maybe because that desire was clearly tucked somewhere in my subconscious.
"But I think that's what I do with music. My songwriting is an act of therapy, and the guitar is a canvas to shape the songwriting."
How do you approach guitar as a writing tool? Do the riffs or lyrics come first?
Both sort of happen at once. But I'll usually start by picking up a guitar and playing a rhythm. I think, for me, it's about the guitar providing a blanket where I can sit and write melodies and lyrics.
What first attracted you to the guitar?
I've been singing since I was a kid. My parents had me in all sorts of choirs and whatever was going on that I could get my voice into. But when I was around 13, I realized I could actually write my own music.
I was just getting into pop-punk and learning about Blink-182, Green Day and Weezer. Sadly, I didn't know that women could also do that. I was just like, 'Okay, guys play guitar. It's a thing men do, and women are just fans of it.'
What changed that perception for you?
I remember the first time I saw Brody Dalle [singer and guitarist for punk band the Distillers]. I was like, "Whoa, that's so cool!" And then I just started to explore harder music made by women. My mom listened to a lot of Carole King, Carly Simon and Joni Mitchell, so I knew women could make music. And Joni Mitchell is a fantastic guitar player, too, but I didn't think of it in the same way that I thought of rock music.
Recommended Listening: 'Always Tomorrow'
• "Different Light"
• "Graceless Kids"
• "Seeing Red"
• "Master of My Own Mind"
• "Everything Has Changed"
When I asked my dad for a guitar, he bought me a Mexican [Fender] Strat and I started taking guitar lessons. I would burn CDs of songs I really liked and my instructor would teach them to me. And that was really how I learned to play.
Rhythm has been the basis of what I do as a songwriter - writing from that landscape of basic chords and basic progressions.
What's your main guitar and amp on Always Tomorrow?
The one I kept going back to was a Fender Mustang. I also used my own Strat pretty often, and I have some weird, off-brand Squiers and over the years that are just sort of like Frankensteins. But in general I love Fender guitars. I'm a petite person and they're usually small and feel comfortable on my body. And I mostly played through a Music Man amp.
The guitar sound is so great on the record, with a clear and well-defined attack.
That's really Bobb's space. He's like an encyclopedia when it comes to that stuff. And it's nice to have somebody that really knows how to make those sounds happen. When we started out, our first record was so drenched and saturated in reverb and distortion. I'm sure a lot of that was to mask how self-conscious I was.
We didn't want people to really hear us. We wanted to have things drowning in these effects, where you couldn't really tell what was going on, but you just knew you liked it. But, over time, I think we've become more comfortable with what we're doing.
We've taken a lot of effects off my voice, and, in terms of the guitars, we've made things a little brighter and clearer sounding. And, honestly, there's so much guitar on this record. It's insane. [laughs] It wasn't our plan to go in and make this heavy guitar rock record, but we did it kind of accidentally.
How do you approach your lyrics?
I went through a lot of personal changes during the writing of this record. The album is really about where I was at when I started working on it, and dealing with things that I didn't really ever talk about.
For a long time I lied and told people I was okay because I thought if I told them that, then I would actually feel okay. But it's nice to just be honest about the way that I feel - whether I feel miserable, overwhelmed or joyous - and be able to write about that.
Why is it important to you to get that honesty out on record?
I've always gravitated to artists that don't seem unattainable. I just think I've always been sort of a regular-ass person.
That seems to be how you approach the guitar as well. You're not concerned with being flashy; you use the instrument as a tool to transmit what you're feeling.
Yeah. I play power chords, and I do what I do. And even though I'm not a classically trained guitarist, I've been able to write four records' worth of songs doing what I'm capable of.
And I think that by having this spotlight - or whatever it is you want to call this position that I have - I help people understand that you don't have to be a virtuoso to make music. You can just come at it with whatever you have, and that can be enough.
Best Coast's new album, Always Tomorrow, is out now via Concord.
All the latest guitar news, interviews, lessons, reviews, deals and more, direct to your inbox!
Rich is the co-author of the best-selling Nöthin' But a Good Time: The Uncensored History of the '80s Hard Rock Explosion. He is also a recording and performing musician, and a former editor of Guitar World magazine and executive editor of Guitar Aficionado magazine. He has authored several additional books, among them Kurt Cobain: Montage of Heck, the companion to the documentary of the same name.