Ayron Jones on Dynamics, the Seattle Sound and Building the Next Generation's Rock and Roll Guitar Tone
Seattle's Ayron Jones channels rock, blues and hip-hop into music that spans the eras - from Hendrix to Morello.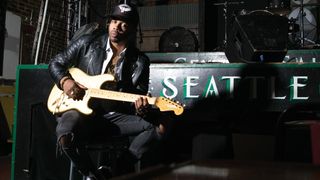 (Image credit: Future / Karen Mason Blair)
"Rock and roll is a creation of Black America," Seattle-based guitarist Ayron Jones says. "Even though it may be less talked about and may be forgotten by some of the newer generations, it's our sound. Not to keep and hold on to, but it runs through our veins."
On "Take Me Away," the first taste from his forthcoming debut for Big Machine/John Varvatos Records, Jones makes his feelings known in no uncertain terms, from the marching, Rage Against the Machine–inspired opening riff to the feedback-laced trem-bar dive that launches his band into orbit.
No chords or notes are safe from Jones' ferocious delivery. "The same place that bred rock and roll also gave us blues and jazz and hip-hop," he says. "There needs to be an awakening about what this really is."
For Jones, who has shared stages with B.B. King, Run-DMC and Public Enemy, the connection between rock and hip-hop is a continuous thread.
"The millennial generation, we're such an amalgamation of all these different songs throughout the decades," he says. "I think in any genre at this point, when you see a whole new generation taking up music, you'll notice their sound isn't just one thing anymore. This isn't just blues, this isn't just rock, this isn't just hip-hop. We are the most diverse generation, and our music reflects that."
After making a name for himself in the Pacific Northwest, in 2013 Jones released his debut album, Dream, produced by Sir Mix-a-Lot. He was subsequently invited to Atlanta to work with Deep Cotton, a funk-punk duo associated with visionary singer-songwriter Janelle Monáe and her Wondaland Arts Society imprint.
The experience was a whirlwind, Jones says, but he turned down a long-term gig with them to bet on himself, and in 2017 released the album Audio Paint Job.
"That was a moment in my life in which I had to decide whether I was going to continue to be the guy that supports the artist on the stage, or be the artist myself," he says. "Seeing them consumed by their art is what made me focus and realize that's what needed to happen for me to get to the next stage in my life."
Jones recently phoned Guitar Player from Seattle to talk about where he came from and the tools he commands.
Your sound draws from generations of Seattle-based music. There are hints of Hendrix, Nirvana and grunge, but also players like Tom Morello.
Yeah, especially on "Take Me Away." We always had that Rage Against the Machine/West Coast rock sound. For this record, I was trying to play something that would be recognizable and familiar to people that have been following rock throughout the ages.
Did rock music come into your life through those artists?
I don't think so. It's been a part of me just by being a Black American. It starts in the church. Also, growing up in Seattle - man, that was a big influence on my sound as well. Being born and raised here throughout the '90s and all that.
I think that rock - because it's been appropriated and in some instances stolen from us throughout the generations - has changed forms over and over again. If you think about the Rock & Roll Hall of Fame, it's not just rock artists; you've got bands like Run-DMC that enter that framework too.
You're self-taught. What drove you to figure it out for yourself?
By definition, I would be considered a multi-instrumentalist, although I wouldn't say that I'm proficient on any other instrument aside from guitar. But even before that, I was teaching myself how to play piano. I always had this drive to teach myself how to express myself through something.
And by the time I picked up guitar, I was already two years into taking violin at school. It just seemed like a natural crossover at the time, and I found myself able to express myself and live through this instrument in all the ways I wanted to.
Back then, we didn't have YouTube or any of the online access we do now to all these lessons, so I would sit and listen to as many records as I could find and try to copy the guitar note for note. That's what got that obsession going for me.
What artists were you trying to figure out at the beginning?
I listened to Stevie Ray Vaughan, Jimi Hendrix - all the old blues cats. Coming from a gospel background, I was obsessed with that soul sound, but also learning how to play, like, Lenny Kravitz. "Fly Away" was the first song I learned how to play on guitar, on the first day I got it.
The '90s influences are what brought about a heavier tone, listening to cats like Nirvana, Soundgarden and Pearl Jam. But I would definitely say the blues cats and classic-rock cats were the ones I was looking to for guidance when it came to guitar skills.
Did you ever learn scales or theory?
What's funny is, the whole time I was learning guitar, I was also learning violin. And I'm terrible at violin, man; I was always last chair. But a lot of the theory I learned for the violin translated to the guitar.
I did go back and learn the names for these things, but I had a natural gift for being able to recite those things on the guitar, even though I didn't have the terminology for what I was doing.
On "Take Me Away," your first single, and in your Live on KEXP set [on YouTube], you use noise like another instrument. What are you trying to express?
I've developed this theory that what captivates people about an instrument or tone are the imperfections, because that's the true reflection of human nature. For me, it was always about involving the Seattle tone.
So if I was going to take that Seattle tone and mix it with blues and soul, and the gospel I was coming from, that was going to be the result. Your imperfections make you perfect. Make it noisy, make it loud, give me some feedback. But stay focused on the task at hand, which is giving people good music.
You've mastered the whole idea of bending effects to your will. What's on your pedalboard?
My tone is kind of grunge-meets-blues and classic rock, so I went to the pedals that really defined those sounds: the Boss DS-1 distortion pedal, like Kurt Cobain played through on Nevermind, and a TS9 Tube Screamer.
I've got a [FX Engineering] Moab Boost pedal, which is just a compression pedal, and a Boss PS-6 Harmonist, which gives me that futuristic-modern tone. I can bend sound, play a chorus sound, get a delay or a detuned sound.
I can get a lot of different tones with that. When it comes to effects, I believe that most of that should come from your hand, so I play a lot with harmonics and learn how to manipulate those tones.
You rotate through a few different Strats in your gigs. What's your favorite?
My primary Strat has a hum/single/single pickup arrangement. It's a Fender American Pro. If you think about the blues tone, that's more of a single-coil sound, and warmer, so that's typically why I like having the singlecoils at the neck.
But when you think about the loud, punky, grungy sound, that's more of a humbucker sound. For that loud/soft thing, I like having the single-coil at the neck and the mid, and I like having my humbucker at the bridge, so when I turn it up, I'm going to get in your face.
What amps are part of that attack?
Right now I go through a Dr. Z Maz 38 Sr. and a Fender Hot Rod Deluxe in stereo. It's a booming sound, man. We were in Ketchum, Idaho, opening for Lukas Nelson & Promise of the Real, and I had a chance to play "Little Wing" with Lukas that day in the showcase.
As we're onstage, I'm noticing that I'm having a hard time matching his tone and volume. So finally, when we got offstage, I was like, "Man, what is he going through to get that?" And his guitar tech goes, "You're not going to get that tone without going stereo."
From that moment, I decided that I was going to go stereo and continue to work with different amps to find the tone I was looking for. So right now that combination works for me. But another one I tend to go for is a Marshall JCM with 4x12 cabs - anything that gives me that loud, multilayered speaker tone.
All the latest guitar news, interviews, lessons, reviews, deals and more, direct to your inbox!
Jim Beaugez has written about music for Rolling Stone, Smithsonian, Guitar World, Guitar Player and many other publications. He created My Life in Five Riffs, a multimedia documentary series for Guitar Player that traces contemporary artists back to their sources of inspiration, and previously spent a decade in the musical instruments industry.