Award-Winning Blues Guitarist Deborah Coleman Was a Rock 'n' Roll Powerhouse
Remembering the late, great blues virtuoso in this archive interview.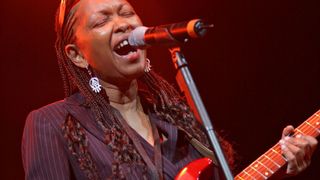 (Image credit: Barry Brecheisen/WireImage)
Deborah Coleman was a great blues guitar player. She was well known in the blues world but had a rock background, which gave her playing a distinct edge. Coleman was as at home playing Billie Holiday as she was Jimi Hendrix, and she was known to stretch out her live show into extensive and expressive jams, where one song might last 40 minutes.
The blues world felt a great loss when she passed away suddenly in 2018 from complications due to pneumonia. GP spoke to the award-winning guitarist back in 2008 following a tour in support of the collaborative Sue Foley, Deborah Coleman, and Roxanne Potvin album Time Bomb.
How did you start playing professionally?
On weekends I would go to blues jam sessions, and that's when I started meeting a lot of traveling musicians coming through town. Kenny Neal was one of the first I met. I remember the first question I asked him. I said, "How much money do you make in blues?" And he gave me this unbelievable figure. He told me, "I make, like, a couple hundred thousand dollars a year." I said, "Oh really?" I thought that sounded pretty good!
When you started out, was anyone surprised to see you playing leads?
Dickey Betts for one. Dickey was like, "Finally, a girl that plays!" I met him in Sarasota, Florida, one year doing a festival with Steven Segal. I've worked with some really great people in my band, too, and everybody was great in their own right. To make it out on the road with a group of guys, you almost have to be one of them. You gotta act cool and learn how to talk football and baseball.
Do you still listen to rock and roll?
If I do, it's the old stuff. I'll still go listen to Led Zeppelin, the Beatles or Joe Satriani. My favorite rock and roll guitar player is Eddie Van Halen. That guy had feeling! He just had so many unique ideas, and he took things in a different direction.
Tell me some of your career highlights.
I've been blessed with a lot of great opportunities. I won the Orville Gibson Award [for Best Blues Guitarist, Female] in 2001, and I've had about eight or nine W. C. Handy Blues Music Award nominations.
But really, the best thing has been getting to perform with some of the musicians that I never thought I'd have a chance to play with, like Bonnie Raitt. I also got to play with Paul Rodgers. We were at the Rock and Roll Hall of Fame gig and he needed a guitar player that could play the song "All Right Now." Somebody told him, "Deborah plays rock and roll," so he called me. I went over to his hotel room and learned the song, and I got to play it onstage with him.
One of the best highlights of my career was playing B.B. King's 80th birthday [in 2005]. I was surprised to even be on the stage, and I was the only girl up there. I'm up there with B.B. and Bobby Bland, Bruce Willis, Montel Williams – some of the most famous people and notable musicians in the world. I remember, Montel looked at B.B. while we were playing. He pointed at me and said, "Give the girl a round!" So B.B. let me play a solo, and then he actually said my name after. I was the only performer whose name he announced.
All the latest guitar news, interviews, lessons, reviews, deals and more, direct to your inbox!