Albert Lee: "Back in 1963, I Bought a Second-Hand Tele and it Changed My Life Completely. The Tele Had a Really Wiry Sound Compared to My Les Paul Custom... I Immediately Began to Approach Music Differently"
He's played with Eric Clapton, the Everly Brothers, Emmylou Harris, the Crickets, Joe Cocker, and countless others, but – as he told GP in this 2010 interview – Albert Lee is always, still, looking for "that perfect night onstage."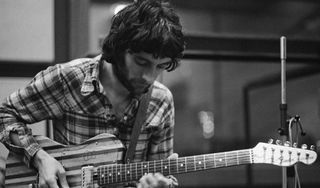 (Image credit: Michael Putland/Getty Images)
This interview originally appeared in the August 2010 issue of Guitar Player.
When Albert Lee takes the stage with his buddy and former bandleader Eric Clapton at the 2010 Crossroads Guitar Festival, he'll be celebrating his 50th year as a professional guitarist. Like the warp-speed solos he spins so effortlessly, Lee's musical odyssey has an unusually long arc.
In addition to being a founding member of the pioneering late-'60s country-rock band, Head Hands & Feet, Lee backed Clapton for five years in the late '70s, and has toured and recorded with the Everly Brothers, Emmylou Harris, the Crickets, and Joe Cocker. He's also a veteran of countless sessions in London, Nashville, and Los Angeles.
As a young man in his native England, Lee was inspired by Jimmy Bryant, Cliff Gallup, Scotty Moore, and James Burton to forge his own white-knuckle picking style from elements of hot-rod country and jump-jivin' rockabilly. Voted "Best Country Guitarist" five times in the GP Readers' Choice Awards, Lee continues to thrill festival crowds in the U.K. and across Europe with his band, Hogan's Heroes, and also plays in Bill Wyman's Rhythm Kings.
Lee's peers are among his most ardent fans. In the introduction to Country Boy: A Biography of Albert Lee, by Derek Watts, Clapton writes, "He is a great, great player, fluid, lyrical, and free – like a jazz musician, but with country scales; like Django, but with a bluegrass past." Emmylou Harris once said, "When St. Peter asks me to chronicle my time down here on Earth, I'll be able to say, with pride if that's allowed, that for a while, I played rhythm guitar in a band with Albert Lee."
Few guitarists can boast a half-century of musical activity, much less burn as Lee does in Live at Stazione Birra: Rome, a concert DVD he taped with Hogan's Heroes. At 66, Lee's hair is now white, but he still plays with the adrenalin-fueled passion of a teenager.
You witnessed the birth of rock and roll in England. What was it like to be a guitarist then?
"Well, it was a challenge to find a decent instrument. We were still struggling after World War II. I started playing around 1957, and back then there was an embargo on imported luxury goods in Britain. It wasn't until 1960 that Fenders and Gibsons started to come into England in fair numbers.
"I borrowed guitars from school friends for a while, and eventually got a Hofner archtop. In 1959, I traded it for a solidbody with three pickups and a tremolo. It looked like what Buddy Holly was playing, so I thought, 'Yeah, that's the real thing.' But it wasn't – it was made in Czechoslovakia. Back then we didn't know what a Fender was."
How did you make the leap to professional gear?
"In about '61, a big shop called Selmer's on Charing Cross Road, in the West End of London, began carrying Gibsons from the Super 400 on down. I really wanted a Gibson at that point, because Scotty Moore was such a big influence. I'd study these guitars, trying to figure out which one I could afford. I wound up buying a Les Paul Custom."
Were you playing rockabilly by then?
"Yes, though I didn't have an unwound third string until around '61, after Eddie Cochran came over to England and spread the word about what guys were doing in the States with an unwound third.
"Sets with plain thirds weren't available at that time in England, so I'd buy a set of Gibson Sonomatics plus an extra first string. I'd throw away the sixth string, move the remaining five down, and make up the difference with the extra first string. The first rock-and-roll sets to come into England were Fender 150s, gauged .010-.038. I used those for a long time."
When did you embrace the Telecaster?
"Back in '63, I bought a second-hand Tele and it changed my life completely. The Tele had a really wiry sound compared to my Les Paul Custom, so I immediately began to approach music differently."
In what way?
"At the time, I was into Scotty Moore, with his country and rock-and-roll mix, and Cliff Gallup, who was more of a swing player. I'd heard James Burton, but what he was doing with all those bends was a little alien to me until I got a Tele of my own. When I realized I could get that James Burton, string-bending sound with a Tele, I thought, 'Wow, this is really cool.'"
You're known for your superb flatpick-plus-fingers technique. Did you always play that way, or did you develop this hybrid approach later?
"I've always picked that way because I was trying to copy what I'd heard Scotty Moore play with Elvis. By the early '60s there were a couple of guys in London using a thumbpick like Chet Atkins, so I tried a thumbpick for about five minutes. I realized it wasn't for me, because the real fast picking I was working on came a lot easier with a flatpick. Those thumbpickers sounded really good, but they couldn't play what I was doing, so I just persevered with the approach I already had."
From your Live at Stazione Birra: Rome DVD, it's evident you've mastered the art of playing flowing lines that span an entire cycle of a song's progression. This is very different from B.B. King or Eric Clapton, who play short phrases and then pause to hold a note.
"And I don't know if that's a blessing or a curse. I have a pretty fluid technique, and it can run away with me. If I do fall over or make a mistake, I'm able to take it somewhere else. It's like going on a cross-country run: I'm able to negotiate most things that come my way, but I often think I should sit back and survey the landscape, and pick and choose more.
"I started to learn that playing with Eric. When I was in his band, I thought, 'This guy is really milking the music for all it's worth. What he's doing is relatively simple, but it fits amazingly well.' Now I try to think that way when I play.
"My knowledge of the fretboard came through working out Cliff Gallup solos. He was great with a tremolo bar too, so I started out using the tremolo on my first couple of guitars, but then got away from it for many years. I rediscovered it when Music Man started offering tremolos on my signature model guitars."
Give us an overview of the Albert Lee model's evolution.
"Originally, Music Man built it as a prototype in the mid '80s. They had this wild body shape that looked so cool. I played the prototype to death – I just loved it. Eventually, [Music Man's] Sterling Ball said, 'We're going to put your guitar out.'
"The one I'd been playing had three single-coil, Alnico II pickups Seymour Duncan designed for me. The bridge pickup had a metal plate underneath it, somewhat like a Tele rear pickup, so it has a bit more bite than a Strat pickup in that position. We explored a Tele-style pickup suspended from a metal bridge plate – I still have one of those prototypes – but eventually settled on the three-pickup, Strat-like configuration, because I liked the way that guitar sounded so much.
"The model first came out with a pinkburst finish and fixed tailpiece. I think it originally had a six-bolt neck plate. That changed to a five-bolt plate, which eventually became recessed – a nice touch – and then the neck heel was rounded off to make playing up high more comfortable."
Has your signature guitar always sported those custom Seymour Duncans?
"Oh yeah, we haven't changed them, although the guitar is now also available with three soapbar pickups, and recently they've added a dual-humbucker version to the line."
How did the tremolo model come about?
"Sterling told me Music Man wanted to build a tremolo-equipped model and asked how I felt about it. I told him that was fine, although I wasn't using a tremolo unit. But when I eventually tried one and discovered how well the unit handled, I became a convert. Now I much prefer it to the fixed bridge model.
"The tremolo comes with three springs, which I adjust slightly from the factory setting. I like true vibrato – the ability to lower and raise the pitch – so I set the tremolo unit to float by slackening the springs just a bit. I also put the tremolo bar in a vise and bend it so it sits more flush to the body. I like the bar to be within reach of my pinky while I'm picking."
On your concert DVD, the trem comes back into tune really well, even after you've wrenched it.
"Oh, it's just amazing. I drop that bottom E down to an A – sometimes even E an octave below – and it just comes right back. The bridge sits on two pointed pivots. It's a wonderful design."
And this guitar comes with locking tuners too?
"Yes, and they're great. If you'd asked me before I'd tried them, I would have said I prefer traditional tuners, because the locking ones add some weight. But the locking tuners keep the whole guitar in tune, despite all the dive bombs I do. And it's not just one guitar, each one I play works just as well."
Tell us about your amp, strings, and picks.
"I've been using a 100-watt Fender Tone Master head and 4x12 cabinet for at least six or seven years. For strings, I like Ernie Ball's Regular Slinky set, 010 to .046 gauges, but with a custom third string.
"For quite a few years I used a .016 instead of the stock .017, but these days I've been using a .015 and I don't notice a significant difference in tone. Music Man still sends me guitars with a .016 third. Maybe I should tell them what I'm doing [laughs]. I use Ernie Ball picks – heavy for electric, medium for acoustic."
You're known for using delay to create cascading runs, as in "Country Boy" on your 1979 solo album, Hiding, and "Sister's Coming Home" and "Luxury Liner," which you recorded with Emmylou Harris. How did you discover this technique?
"When I met Jerry Reed in '68 or '69, he told me you could get great delay tricks with an Echoplex, but didn't explain how. It wasn't until I picked up an instrumental album by Jim and Jesse, a bluegrass duo featuring Jesse McReynolds on mandolin, that I heard someone using echo to add notes to a line. It sounded amazing, so in '71 or '72, I brought an Echoplex back to England, but it took me two or three years to stumble upon how you create that effect.
"I was actually playing too many notes. You have to play a very strict four notes to the bar and slide the playhead until the repeat comes in a beat-and-a-half later. This way the delay falls between each note you're picking. To make it work, you have to set the delay for only one repeat and keep the echo at the same volume and tone as the original note."
What do you currently use for delay?
"Eventually I switched from the Echoplex to a Lexicon PCM 42, but these days I use a Korg A3 – it's my favorite effects unit. In fact, I've got five of them. It's a little tricky to get timed echo on the fly with an A3 because you have to program the delay time. It's a lot easier with a pedal or a unit that has a variable delay knob on it."
Looking back over five decades of music making, what highlights stand out?
"Playing with the Crickets is one; another highlight is when I first came to the States with Head Hands & Feet. I went out with Joe Cocker for a while, and that was fun. Playing with Emmylou Harris and taking over from my hero, James Burton, was a huge turning point. Emmylou introduced me to a whole new American audience.
"Obviously, I had a great time playing with Clapton for five years, and I also loved the 20 years I performed with the Everly Brothers. It was absolutely amazing to be involved with the Concert for George at the Royal Albert Hall in London. And, of course, playing the Crossroads Festival. That's a pretty big show to be involved with, and I'm happy to be doing it again this year."
Few musicians manage to sustain a career for half a century. What's your secret?
"I see some guitarists who had a lot of success during a certain period, yet now they sit back on their laurels. Every six months they might rehearse a band for a tour, but they're not playing all the time and it shows. I like to think I'm playing as well as I ever did, and the reason for that is I haven't really stopped.
"Sometimes I'll play these horrible little bars for $50 or whatever, and the reason is I'm hoping it would be that extra special gig I always search for. I keep looking for that perfect night onstage."
All the latest guitar news, interviews, lessons, reviews, deals and more, direct to your inbox!