Adam Darksi on Gretsch Guitars, Johnny Cash and Rounding Up an All-Star Metal Posse to Ride the High Country
Adam Darski returns with his goth-country side project, Me and That Man. And this time he's brought his gang.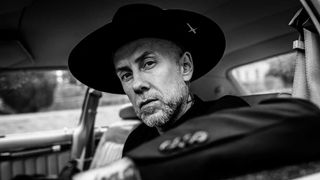 (Image credit: Grzegorz Golebiowski)
As the corpse-painted singer, songwriter and guitarist for Poland's Behemoth, Adam "Nergal" Darski has established himself as one of the most captivating and compelling figures in extreme metal over the course of an almost 30-year career.
So it was a big surprise when he picked up an acoustic guitar and formed the duo Me and That Man with English musician John Porter in 2017.
With nary a rapid-fire riff, pounding rhythm or guttural vocal, Me and That Man drew from a variety of sounds and styles in the service of something that was dusty and rootsy, but nevertheless wholly undefinable. And in Darski's estimation, that was the best thing about it.
"Every time I talk to people, they say something like, 'Oh yeah, your folk project.'" Darski says. "And I'm like, 'Well, I don't really think it's folk music.' So they say, 'Okay, your blues project.' And I tell them, 'Well, it's blues based, but is it really a blues band?' And so on and so on. Because you cannot really put a label on this music."
That much is true. Listen to Me and That Man's 2017 debut, Songs of Love and Death, and you'll hear plenty of folk and blues, but also elements of goth, rockabilly, country and Americana.
That stylistic stew has only widened and deepened on the just-released follow-up, New Man, New Songs, Same Shit, Vol. 1 (Napalm Records). And there's a reason for that. For starters, Me and That Man is now, for all intents and purposes, down to just one man.
Since splitting with Porter in 2018 under somewhat acrimonious circumstances, Darski has continued on his own. "John kicked himself out of the band," he explains. "And it made my life easier because I was going to ask him to leave."
But Darski is far from alone. For New Man, New Songs, he's drafted a who's who of metal artists.
The roster includes Slipknot vocalist Corey Taylor, guitarists such as Mastodon's Brent Hinds and Ihsahn from the black-metal group Emperor, multi-instrumentalist Jørgen Munkeby from Norway's Shining and guitarist/drummer Nicke Andersson from Sweden's Entombed.
So what does it sound like when a bunch of metal extremists go on a decidedly un-metal-like musical excursion? Different, to be sure, but still incredibly heavy.
"Run with the Devil" is a stomper featuring Munkeby's vocals and bleating saxophone, while the quasi-spiritual "Surrender" matches up Swedish electro-industrial doomsters Dead Soul and Volbeat guitarist Rob Caggiano.
The banjo-and-harmonica infused "Deep Down South" includes a duet with Lucifer's Johanna Sadonis, and the goth-country-doom lament "Man of the Cross" features truly creepy vocals courtesy of Jerome Reuter of the experimental Luxembourg act Rome.
Explains Darski, "I'm having an exciting interplay with other dudes from different continents and from different genres of music, and we just have fun. What you get from that is a conglomerate of rootsy styles and genres, composed through my Slavic experience. It's a modern approach to old-school music."
In the U.S., blues and country artists are often praised for authenticity and judged by how deep their roots descend into their chosen genre. As someone who didn't grow up immersed in these sounds, do you feel you offer a unique take on the music?
Maybe. Let me put it this way: The majority of country music is just... It's garbage, in my frank opinion. And while there's some selected blues artists that I worship and adore, I'm not listening to blues music all day long.
The same goes for some of the other genres I flirt with in Me and That Man. Am I a blues devotee? No, I'm not. Am I an outlaw country artist? I'm not. We don't have that culture here in Poland. So in order to learn something, I need to look up to other artists.
How did you get turned on to the musical styles that you cover in Me and That Man? Did you hear these forms when you were growing up, or were you introduced to them more recently in life?
It was more recently. In the beginning of the '90s, I was very radical and had no interest in other genres, with a few exceptions, such as Danzig. Danzig is heavy, but it's all blues-based music. I just became a huge fan of the group, and that led to me exploring other musical genres.
And then I found out about Glenn Danzig's collaborations with Roy Orbison [the song "Life Fades Away"] and Johnny Cash ["Thirteen"]. So I started digging more and discovered this whole new world of music. Because Johnny Cash is rockabilly. He's outlaw country, he's blues. He's everything. And I just realized, "I love this." And that's how it all got started.
One characteristic that all those genres share with metal is that they're drawn to dark themes.
Oh, yeah, they share dark stories, absolutely. With metal, it's peregrinations from deep within our darker self. And with blues, outlaw country, goth - it's all darkness. And for me, whatever I've found interesting about human nature has always been the unknown danger factor of nature itself. My gravity has always pulled me toward those topics.
What guitars and amps did you use on New Man, New Songs?
My guitars were mainly Gretsch models - a White Falcon and the black version of that. And then I had a Peavey combo. I've been using Peaveys for quite some time and I'm really happy with them.
In Behemoth you mostly play ESP V-style guitars onstage, which are clearly designed for heavy metal. Does changing up the instrument also change how you write songs and play them?
Yes, it does. I think writing and performing is all about getting the right vibe, and I need the right vibe from the instrument I'm using. I use ESPs when I play metal because they're fast guitars, but you can't really do fast picking on a Gretsch. You just have to play simple chords. And then it's like there's more space in the song. It has room to breathe.
You came to this music as an outsider, and I imagine it was a similar situation with a lot of the metal musicians you brought in as collaborators on the new album. Did anyone have trouble adapting to the style?
It wasn't easy. Ihsahn, for instance, really wanted to do it, but then he was like, "What am I supposed to do with this?" He suggested, "Maybe I should do just the choruses with you, because I really like what you did on the demo." But I said, "No, man, bite the bullet and do this song! Just have fun."
And at the end of the day, people were like, "I've never heard Ihsahn singing so emotionally!" I think I brought some of these artists out of their comfort zones, and then we were able to make something more out of this music. Something different.
Recommended Listening: New Man, New Songs, Same Shit, Vol. 1
• "By the River"
• "Run With the Devil"
• "Burning Churches"
• "Deep Down South"
• "Man of the Cross"
• "How Come?"
Going forward, are there any other styles of music that are outside of your comfort zone that you'd like to tackle?
Yes. I like a lot of punk bands, and I like the primitive, raw punk sound. But I can't really pursue that in Behemoth, because Behemoth's music is way more sophisticated than punk rock music. So I haven't explored that genre yet. But don't be surprised if you see me doing a punk rock project at some point in the future.
All the latest guitar news, interviews, lessons, reviews, deals and more, direct to your inbox!
Rich is the co-author of the best-selling Nöthin' But a Good Time: The Uncensored History of the '80s Hard Rock Explosion. He is also a recording and performing musician, and a former editor of Guitar World magazine and executive editor of Guitar Aficionado magazine. He has authored several additional books, among them Kurt Cobain: Montage of Heck, the companion to the documentary of the same name.