John Lennon Played It on Repeat and Frank Sinatra Called It the Best Song of the '70s – Here's How a Simple C9 Chord Inspired Little River Band's Top-Ten Hit "Reminiscing"
"It was a spiritual download that just flowed through me": guitarist Graeham Goble explains how learning this extended chord unlocked LRB's "pinnacle song" in half an hour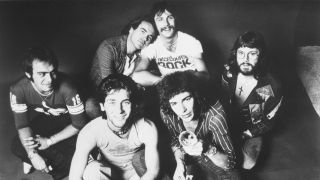 (Image credit: Getty)
It's not hard to get Little River Band guitarist Graeham Goble to reminisce about "Reminiscing." The 1978 single was the Australian group's most successful in the U.S., peaking at number three on both the Billboard 200 and Cash Box charts.
It was named Australian Record of the Year at the 1978 King of Pop Awards and was honored by Broadcast Music International (BMI) for five million plays on American radio, the most for any Australian pop song up to that point.
It was also, somewhat surprisingly, a favorite of the late John Lennon during his mid-'70s affair with former assistant May Pang. "She wrote in her book, Loving John, that they would lay in bed listening to 'Reminiscing,'" Goble says, "and he was asking her to play it again and again and again. That was pretty amazing."
Originally released as the second single from LRB's fourth album, Sleeper Catcher, "Reminiscing" can be found on the new LRB compilation, Ultimate Hits. Still in Melbourne where the band was formed, Goble has nothing but fond memories of "Reminiscing" and all that came in its wake.
Musical Cheers
"It was inspired by my love of the '30s, '40s and '50s musicals, 'cause I was 12 years of age when we got a black-and-white television in Adelaide," Goble explains. "The programs I immediately loved were all the Fred Astaire-Ginger Rogers, Rogers and Hammerstein musicals – all of that American romantic era. A lot of my songwriting, but particularly 'Reminiscing,' was about the life I wished I had, putting myself into those situations I saw in the movies.
The song arrived in April 1977, when the group was in Melbourne for a TV appearance. "We were in the green room, just playing our guitars," Goble says. "The lead guitarist, David Briggs, was showing me some jazz chords, one of which was a C9 chord, a shape I never knew about.
"When I came home after the television show, I picked up my Martin 000-18 and played that chord. Immediately, I had this melody and lyric, all at the same time, almost like it was a spiritual download that just flowed through me. In about a half an hour, the whole thing was finished, and I had this very different song with key changes and quite a lot of jazz chords – quite a sophisticated piece!"
Third Time's a Charm
As Goble recalls, the Little River Band made two attempts at recording the song before they struck gold. "The keyboard player I wanted for it was Peter Jones, and he was not available," he says. "So I was forced to pick another player, and it didn't work. And then we did it with a second player and that didn't work out, either.
"Then I heard Peter Jones had come back into town. So under protest from some of the guys, mainly from [vocalist] Glenn Shorrock, they reluctantly agreed to give it a third go. As soon as we sat down with Peter, the whole thing came together. Our guitarist Beeb [Birtles] played a syncopated riff from the third verse to the very end of the song, which I really loved. It was a lovely lift to the latter part of the record."
Capitol Assets
In addition to "Reminiscing," Sleeper Catcher included "Lady," another song with which the LRB would make their name in America. Although Goble and the band were convinced they'd recorded something special, their label, Capitol, had trouble hearing it. "We waited five weeks with no response," Goble says. "They eventually Telexed us and said, 'We think the album is great but we can't hear any singles' – and they had 'Reminiscing' and 'Lady,' our two biggest singles of all time!"
Eventually the label decided to take a chance on "Reminiscing." "They said, 'But we really don't know if it will connect at all.' Within a couple weeks it went ballistic, right to number one in New York and number three on Billboard."
Goble calls it "our pinnacle song. It's double any other song we've ever had in terms of listens. It's been in a lot of movies, and a lot of soundtracks. Sinatra said he thought it was the best '70s song in the world, though he never recorded it. But when John Lennon calls your song one of his favorites, does that really matter?"
All the latest guitar news, interviews, lessons, reviews, deals and more, direct to your inbox!