Watch Wolfgang Van Halen Play "On Fire" and "Hot for Teacher" With Dave Grohl Playing Bass at Taylor Hawkins Tribute
Wembley gathered to salute Hawkins but also paid tribute to Eddie Van Halen, as Wolfgang joined Grohl, Justin Hawkins and Josh Freese for a blistering rendition of two Van Halen classics.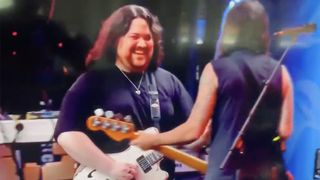 (Image credit: Viacom)
The Taylor Hawkins Tribute Concert at Wembley Stadium on Saturday, September 3, brought together some of the biggest names in rock and popular music to celebrate the life of the late Foo Fighters drummer.
But it still made time to salute Eddie Van Halen, when his son, Wolfgang, joined Foo Fighters frontman Dave Grohl, Justin Hawkins of the Darkness, and drum session ace Josh Freese (GNR, NIN etc) onstage for a ripping rendition of Van Halen's "On Fire" and "Hot for Teacher."
The packed crowd at a sold out Wembley Stadium, London, might just have borne witness to the electric guitar moment of 2022 – and perhaps a taste of what might have been had an Eddie Van Halen tribute tour ever gotten off the ground.
That story, over many months, grew arms and legs as more were linked to the project. Joe Satriani had been in talks. This we know. Jason Newsted was linked to it. Who would sing? Which of today's elite guitar players would step in? Ultimately it did not matter: the Eddie tribute project got mothballed.
Covering Eddie's material would intimidate anyone – Satriani said as much – but as Wolfgang has proved on a number of occasions, and at Wembley on Saturday, he has have the chops to carry it off.
Of course, Van Halen tracks will always be a part of a Mammoth WVH set – they are in the very DNA of the band – but there was something extra-curricular and special about this occasion at Wembley, with Wolfgang taking center stage to deliver his father's inimitable brand of fretboard pyro.
"It should come as no surprise that Taylor Hawkins was a huge fucking Van Halen fan," said Grohl, addressing the crowd. "Do you know this!? You should know this! Didn't you see those tights he was wearing every night? Remember those tights, those skinny Van Halen pants? Well, we're lucky enough tonight to have with us a real Van Halen."
Enter, Wolfgang, to light up a pair of EVH semi-hollow SA-126 prototypes, first a flame-maple topped model, on which he performed "On Fire" from Van Halen's eponymous 1978 debut, then a relic'd model for "Hot for Teacher", the ultimate Saturday night anthem.
Clearly apple did not fall far from the tree. Once "On Fire" was dispatched, Freese opened "Hot for Teacher" with AVH's inimitable drum tag, WVH turned EVH with a pick slide and a blistering run through the tapped arpeggios, and into a tight, fierce and impassioned rendition of one the Van Halen catalog's most dynamic tracks.
Our very own @JustinHawkins doing what he does best on stage with @WolfVanHalen & Dave Grohl at the Taylor Hawkins Tribute Concert last night. An unforgettable night. https://t.co/9Rw1gN33T0September 4, 2022
It was thrilling hard-rock vignette that saw Justin Hawkins recast as Diamond Dave MkII – sporting similarly loud stage wear, the front split to the navel – and a rare stint on bass for Dave Grohl. Maybe, right there, that was our Van Halen Tribute lineup after all.
The Taylor Hawkins Tribute Concert is available to stream on demand via Paramount+, and saw the Foo Fighters perform live for the first time since their drummer's death on March 25.
All-star collaborations were the order of the day. The Pretenders were augmented by Grohl. Brian Johnson of AC/DC jammed "Back in Black" and Let There Be Rock" with a Foo Fighters lineup that included Metallica's Lars Ulrich on drums.
Liam Gallagher performed a couple of Oasis covers, while Brian May and Roger Taylor played a handful of Queen standards with the Foo Fighters.
Alex Lifeson and Geddy Lee rattled through a couple of Rush classics with Grohl on drums before Sir Paul McCartney set up the Foos' final three songs with a performance of the Beatles' "Oh! Darling" and "Helter Skelter." It was that sort of day.
All the latest guitar news, interviews, lessons, reviews, deals and more, direct to your inbox!