Watch "Saharan Hendrix" Mdou Moctar's Astounding Live Performance on KEXP
By Rod Brakes published
A mind-blowing display of talent from Niger's premier ax-merchant.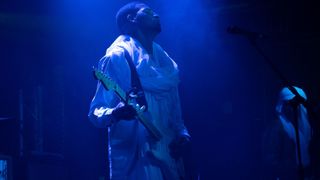 (Image credit: David A. Smith/Getty Images)
Electric guitar virtuoso Mdou Moctar was 17 when he decided he was going to somehow acquire his own ax. But with guitars in impossibly short supply in his native Niger, the young hopeful set about his quest by building the instrument himself.
With very little in the way of instructions, Moctar constructed his first acoustic guitar from reclaimed wood and metal parts, including brake cables and the key from a sardine can.
Talk about improvisation!
Fast forward to now and Mdou Moctar is one of the most exciting talents in the contemporary guitar world.
His dazzling display of technique, unique feel and adventurous composition has enthralled audiences across the globe.
Indeed, Moctar is currently on tour in the U.S. while riding high on the back of his latest release, last year's Afrique Victime.
Last month, Matador Records released a deluxe digital edition of Afrique Victime that includes nine previously unreleased songs comprising demos and live tracks curated from tour recordings.
Also included is the incredible "Nakanegh Dich."
Recorded in Los Angeles with producer Rob Schnapf (Beck, Elliott Smith) during the Afrique Victime album sessions, this was Moctar's very first time using a wah pedal.
"At some point, Mdou called Rob into the studio and asked him to control the wah with his foot while Mdou shredded a solo," explains bassist and producer, Mikey Coltun.
In this amazing clip from 2018, Moctar's singular talent can be witnessed up close as he performs the track "Tarhatazed" live on KEXP.
While Moctar is known to have been influenced by Prince and Hendrix, his introduction to Eddie Van Halen came more recently during a U.S. tour when he saw an old video of the late guitarist performing.
"After seeing him, I developed my own tapping style," said Moctar.
Get Afrique Victime here (opens in new tab).
Rod Brakes is a music writer with an expertise in all things guitar-related. Having spent many years at the coalface as a guitar dealer and tech, Rod's more recent work as a journalist covering artists, industry pros and gear includes writing hundreds of articles and features for the likes of Guitarist, Total Guitar, Guitar World, Guitar Player and MusicRadar, as well as contributions for specialist books, blogs and social media. He is also a lifelong musician.
Get the latest news, reviews and product advice straight to your inbox.
Thank you for signing up to The Pick. You will receive a verification email shortly.
There was a problem. Please refresh the page and try again.