Watch Philip Sayce's Insane Human Whammy Demonstration
By Rod Brakes , Jude Gold published
The Jeff Healey guitarist shows us how to execute this attention-grabbing technique on Jude Gold's fantastic 'No Guitar Is Safe' Guitar Player podcast.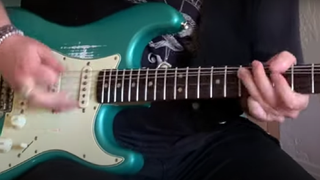 (Image credit: Jude Gold)
If you like in-depth interviews with great guitar players AND you like to hear them play, then you need to listen to our No Guitar Is Safe podcast.
Presented by Guitar Player and hosted by Jude Gold, No Guitar Is Safe is free to listen to at your leisure on iTunes, Spotify, Soundcloud, or wherever you get your podcasts.
In the most recent episode, soulful master of the Stratocaster Philip Sayce invites us into his home where he cranks up one of his favorite Fender rigs and shares how he developed his fiery, fret-melting brand of blues-rock, as well as how he created the songs on his latest album, Spirit Rising.
Sayce also dives into everything from '60s wah pedals and Fuzz Faces to his friendship with legendary guitar amp tech César Díaz.
Plus, the Welsh-born, Canadian-bred guitar hero shares what he learned being bandmates with such greats as Melissa Etheridge and the late Jeff Healey.
In this clip, Sayce demonstrates his astounding ability to mimic a Whammy pedal – a technique he says was inspired by Healey.
"Trying to get those bends out of nowhere were things that Jeff would do," Sayce recalls. "It always scared the shit out of me."
Check out Jude Gold's YouTube channel for more fantastic clips.
Get the latest news, reviews and product advice straight to your inbox.
Thank you for signing up to The Pick. You will receive a verification email shortly.
There was a problem. Please refresh the page and try again.