Tour Joe Bonamassa's Unbelievable Guitar Collection with Gibson TV
In the latest episode of 'The Collection,' Bonamassa also unveiled his new Epiphone Les Paul Custom "Black Beauty" signature guitar.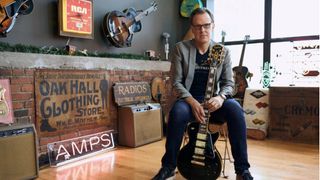 (Image credit: Epiphone)
Aside from his status as one of the world's pre-eminent living blues guitarists, Joe Bonamassa is also undoubtedly one of the world's foremost collectors of vintage guitars.
Naturally, there are few better potential subjects for an episode of Gibson TV's The Collection - a show that, as its title suggests, dives deep into its subjects' personal guitar collections - than Bonamassa. 
This week, Bonamassa dutifully obliged, inviting Gibson's Director of Brand Experience, Mark Agnesi, and the rest of the Gibson TV team to "Nerdville East," his Nashville home, and the location of a decent chunk of his incredible guitar, amp and music memorabilia collection (the rest resides in the main Nerdville, in California.) 
You can check out the full, hour-plus long episode below. 
As one would expect, Bonamassa focuses on the Gibsons in his collection, showing off his... 1959 "Lazarus" Les Paul Standard, 1960 "Johnny B" Les Paul Standard, 1960 "Ragin' Cajun" Les Paul Standard, 1959 "Lorelei" Les Paul Standard, 1963 Gibson SG Special, 1953 "Walter" Gibson J-200, 1963 Gibson EB-6, 1972 Gibson ES-355TDC, 1961 Gibson ES-335TDC and his 1963 Gibson ES-335TDC.
As for non-Gibsons, Bonamassa also takes viewers through his 1952 Fender "Terry Reid" Telecaster, 1977 Zemaitis Solidbody, 1969 Grammer Johnny Cash model, 1952 Telecaster and his 1955 Fender Stratocaster Hardtail.
There's also a 1958 Gibson Les Paul Custom Black Beauty, which served as the inspiration for the blues guitarist's latest signature Epiphone, which - oh, did we forget to mention Bonamassa has a new signature Epiphone that he unveils in the video? 
That new guitar is the Epiphone Les Paul Custom "Black Beauty," which will be available October 8.
"I made it a super-playable instrument, throaty but clean, and the lead pick up just barks," Bonamassa said of the guitar. "I fell in love with it, it's a great Black Beauty and you just play this thing into the ground. Epiphone did an excellent job re-creating this guitar and I'm excited to share it with everyone."
We'll be sure to share more details about the Epiphone Les Paul Custom Black Beauty as they become available.
For now though, keep your eyes on epiphone.com.
Get the latest news, reviews and product advice straight to your inbox.
Thank you for signing up to The Pick. You will receive a verification email shortly.
There was a problem. Please refresh the page and try again.