"This Is the Quintessential L-Series Stratocaster": Johnny A. Reveals the Secrets Behind His Unique Signature Model
A Master Built Strat for a masterful player, here's how a connoisseur of tone puts a signature guitar together with Fender's esteemed Custom Shop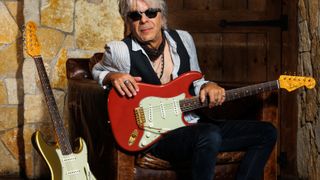 (Image credit: Brian Malloy)
Johnny A. has enjoyed an epic career in the guitar world.
He's had a hit record. He's played guitar in one of his favorite bands, the Yardbirds. And he's got both Gibson and Epiphone signature models to his name.
Now, Johnny A. has been honored by Fender with a unique Custom Shop signature model.
Appearing in Lydian Gold and Sunset Glow metallic finishes, the Johnny A. Signature Stratocaster brings together the artist's favorite elements from a quad of '60s Strats.
But there's a twist. Under the hood, a set of 1956-style Stratocaster pickups gives this hybrid Fender a cool spin.
Guitar Player caught up with the man himself to find out more…
It's a rare thing for a guitar player to have been honored by Gibson, Epiphone and Fender with signature instruments.
A lot of people associate me with Gibson because of my long tenure with them as a signature artist. I signed with them in 2002 but had been endorsed by them since around '94/'95. But I've also played Fender guitars for many years throughout my career.
In 1967, I got my first really good guitar which was a Gretsch. Then, in 1968, my mom bought me a brand-new Fender Paisley [Red] Telecaster.
In the early '70s, I bought a used 1967 Fender Stratocaster from J. Geils.
What kind of Stratocaster do you prefer?
I prefer L-series Stratocasters [Strats made between 1963 and 1965 typically have an 'L'-prefixed 5-digit serial number prior to 6-digit serial numbers appearing in '65.] I like Strats from '63, '64, and '65. And '66 Strats sometimes.
I used a Sunburst '63, a factory Black '64, a Lake Placid Blue '65, and an Inca Silver '66 in my Boston bands the Streets, Hidden Secret, and Hearts On Fire. Then when I got the gig with Bobby Whitlock, I was using my Lake Placid Blue Strat and my '52 Tele.
When I started to work with Peter Wolf, I started using more modern Strats, like the Eric Clapton model.
It wasn't really until I launched my solo career in the '90s that I started looking for a different sound with Gibson.
How did the new collaboration with Fender come about?
It happened very organically. I'm friends with Chris Fleming, who was a Master Builder at the Fender Custom Shop (he retired from there recently.) I told him I was jonesing for a really good Strat because I didn't have a really good one anymore, and he offered to make me a Master Built guitar.
After Chris retired last year, I was approached by Mike Lewis [VP Product Development at Fender Custom Shop] about a signature model.
I picked things up with Ron Thorn who's just an incredible builder. I finished up the specs and tweaked a few things with him. He made me two: one in Lydian Gold Metallic and the other in Sunset Glow Metallic.
How did you decide upon the colors?
Both guitars have an extremely thin "flash coat no buff" lacquer finish.
I wanted a greenish gold, so I Googled "gold green" and it brought me to a Wikipedia page showing some of the earliest minted coins in history – the Lydian electrum coins. They were fabricated by the ancient Lydians who were of Greek ethnicity, like me. That's how we came up with the name Lydian Gold.
When I was seven years old, my dad bought a brand-new 1959 Pontiac Bonneville. I remember going for rides with him at weekends, and I have a strong memory of that car rolling down the street. The color was just a stunning mix of red, orange and pink shades called Sunset Glow Metallic.
I researched the General Motors paint codes and found an old chart from 1959 with the color on it. I sent the code to Mike Lewis, and it turned out the paint was still in production.
I had a picture of an old Pontiac Bonneville in Sunset Glow Metallic and the Bonneville emblem was in gold. It looked really good against that color, so we decided to go with gold parts with that finish. When I got the guitar and opened the case I was floored.
The pairing of a '56-style pickup model (the 11/56) with L-series '60s Stratocaster specs is interesting; how did you arrive at that specific combination?
Chris was a fan of my music, so he was familiar with the tones I like. And he said, "I think these pickups will work for you."
They were from November 1956 – Formvar wire, Alnico 5 magnets, shellac (not wax) – so I asked him, "How do you think they're going to work with '60s materials?" (because we're talking about alder bodies with rosewood fingerboards, as opposed to '50s-style ash bodies and maple 'boards.)
He said, "I think you'll like them. Let's make a guitar and load [the '56 pickups] in."
I said, "Can you form a steel plate and put it under the bridge pickup?" My problem with Stratocasters has always been that I find the bridge pickup too sharp – I can't get enough body out of them.
The pickups on my signature guitars are low output; they all measure from 5.2K to around 5.5K. They're not hot at all, but they sound glorious.
There's an aluminum shielding plate beneath the 'guard, like a '60s guitar. And the wiring harness has a neck/bridge pickup blender circuit and Tone-Saver master volume pot.
For example, if you're in the neck pickup position, in terms of controls you've got a master volume, master tone, and a blend control, meaning you can blend in up to 100 per cent of the bridge pickup.
Same thing if you're on the bridge pickup – you can blend up to 100 per cent of the neck pickup in, so you're able to get that quasi-Tele sound.
Plus, you can get all three pickups in positions 2 and 4.
Tell us about the neck profile of your signature model; it's an unusual hybrid of L-series Strats…
I really loved the neck shape of my '63 from the nut to the fifth fret, and I had a '65 that I fell in love with from the sixth fret to the butt end.
To me, this is the quintessential L-series Stratocaster. It's got the nice feel of a '63/'64 neck at the nut but gets chunkier and feels more rounded as you go up from around the sixth fret, like a '65.
My '63 and '64 Strats felt flatter on the back of the neck, which is good for me because I tend to position my thumb on the back of the neck for chords, like a classical player.
Image 1 of 2
And if you're soloing high up on the neck, having all that meat in the palm of your hand – that round feeling – works really well.
It's transitional; it's got specs from 1963 through 1966 – all the favorite elements of my four old Stratocasters put into one guitar.
We went to great lengths to get all these different elements correct. Like having a 7 1/4-inch radius fretboard of really thin rosewood laminate, like a '65, and a 1 5/8-inch [B size] bone nut.
Even though the specs say it has a '65-style "oval C" profile, it's got wider dot spacing and 'clay' dots (as opposed to pearloid dots) like an earlier guitar. And the headstock has a metal string tree spacer and '63 logo with three patent numbers. The back of the headstock is very softly sculpted too.
Tell us about the body contouring.
The body contours are like my '65, but the back contour is more typical of a '50s guitar. It's very sculpted. It almost bends around you like a potato chip.
It really bugs me when the forearm contour is too sharp – you know, when you can see the light reflecting off that line where the contour starts? I wanted a really gradual curve there, so you couldn't see a break line.
The mint 'guard looks nice…
The mint pickguard is typical of an early '60s Strat with respect to the screw placement [a screw hole moves closer to the middle pickup in 1963.]
Image 1 of 2
What sort of feedback have you had from fellow guitarists about the Fender Johnny A. Signature Stratocaster?
I've had so many people come up to me and comment on the tone of the guitar, particularly the bridge pickup. It's warm, but it's still bright. It has great clarity and that bell-like sound, but it's not harsh.
In the beginning, I didn't quite know what it was going to sound like with '50s-style pickups and '60s-style materials, but it ended up sounding great!
Visit Fender for more information.
All the latest guitar news, interviews, lessons, reviews, deals and more, direct to your inbox!
Rod Brakes is a music journalist with an expertise in guitars. Having spent many years at the coalface as a guitar dealer and tech, Rod's more recent work as a writer covering artists, industry pros and gear includes contributions for leading publications and websites such as Guitarist, Total Guitar, Guitar World, Guitar Player and MusicRadar in addition to specialist music books, blogs and social media. He is also a lifelong musician.