"The 'Marquee Moon' Album Really Set Me off as a Musician": the Edge Reveals How Television Inspired U2 in the Early Days
"I still love turning guitar players on to it," says the guitarist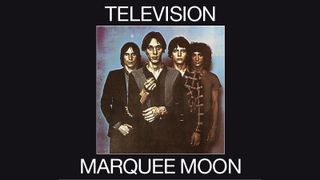 (Image credit: Elektra)
Last month, the guitar world lost one of its true innovators, Television's Tom Verlaine.
The New York art-rockers' groundbreaking 1977 debut album, Marquee Moon, is regarded for its guitar interplay between Verlaine and Richard Lloyd.
Lloyd once referred to his musical relationship with Verlaine as "telepathic."
"We're like blues from another planet," said the CBGB veteran, "like rock music for aliens."
Influential on a global scale, Television were the torchbearers of art-rock. They nurtured the ethos of punk and new wave ahead of the alt-rock movement that followed.
Guitar Player caught up with U2's the Edge who shared his thoughts with us about Verlaine's recent passing and the enduring legacy of Marquee Moon.
"Tom was such a huge influence on us as a young band," remembers the guitarist. "We'd never heard the guitar played in that way before. We'd never heard it sound so unique and different.
"I had no idea why it sounded so different, but I thought, Okay, if Tom Verlaine and Richard Lloyd can do that with the instrument, what can I do? What's my version of their fresh and different use of the instrument? Because I think they were, as I was, trying to avoid the clichés of rock that were around at that time."
Inspired, the Edge ventured into new sonic territory with his own band.
"The punk rock philosophy was being played out throughout culture. It was 'start again, reboot, something new, something fresh, something confrontational.'
"The Marquee Moon album really set me off as a musician. I still love turning guitar players on to it. They all have the same response to it that I did: 'Wow... These guys are amazing!'
"I don't want to leave Richard Lloyd out of it. He's an immensely talented guitar player. The way he and Tom interacted was phenomenal. I don't know if they studied modal music. I think they were in the Dorian mode most of the time; they weren't in our conventional major and minor or pentatonic scales.
"One day I was listening to Country Joe and the Fish, and I heard this track they did called 'Eastern Jam.' I went, 'That's it! [Laughs] That must be the song that got Tom into this other mode.'
"Listen to the song – it's very Televisionesque."
All the latest guitar news, interviews, lessons, reviews, deals and more, direct to your inbox!
Guitar Player is the world's most comprehensive, trusted and insightful guitar publication for passionate guitarists and active musicians of all ages. Guitar Player magazine is published 13 times a year in print and digital formats. The magazine was established in 1967 and is the world's oldest guitar magazine.
When "Guitar Player Staff" is credited as the author, it's usually because more than one author on the team has created the story.