"I'd Never Heard Anything That Brilliant, and Ed Said, 'No, It's Nothing'": Producer Ted Templeman Reveals How He Helped Turn Eddie Van Halen's "Warm Up" Into One of the Greatest Solos of All Time, "Eruption"
"He said, 'It's just something I warm up with before each show.' And I said, 'Donn, roll tape!'" recalls the hitmaker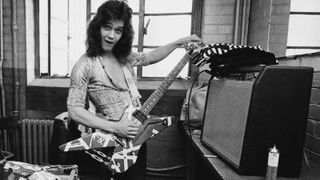 (Image credit: Getty Images)
From his days as an artist with the '60s band Harpers Bizarre to his multi-Platinum hit-making forays producing Van Halen, the Doobie Brothers, Aerosmith, Cheap Trick and Montrose, Ted Templeman has always been content to let the music do the talking.
But through all his many adventures, no one artist has had quite the impact that Van Halen did.
In addition to signing the band to a contract with Warner Bros. Records, Templeman nurtured them through the making of their 1978 self-titled debut album and continued with the group through its most successful era.
In the October 2023 issue of Guitar Player, Templeman reflects on how he first heard Van Halen and what went down during the preparation and creation of their ground-breaking debut record, an album that introduced Eddie Van Halen to the world and changed both guitar playing and hard rock.
In the following interview extract, he recalls the amazing story of how the album's seismic second track, "Eruption," came to be.
"Eruption" is considered one of the greatest guitar solos of all time. Tell me about the origins of that.
I was in this little room making phone calls next to the recording studio, and I walked in and Ed was sitting there kind of playing it. And I went, "What's that?" and he said, "It's just something I warm up with before each show. And I said, "Donn, roll tape!" and he said, "I'm rolling."
He heard it too and he'd already pressed "record." So it just went – boom – and we got it, just like that. I'd never heard anything like that. I'd never heard that kind of tapping. I'd never heard anything that brilliant, and Ed said, "No, it's nothing."
He didn't even know. In addition to being a genius, Ed is one of the sweetest guys on the planet. Such a nice guy. He wasn't even gonna show it to me.
Read the rest of this incredible interview in the October 2023 issue of Guitar Player, out now!
All the latest guitar news, interviews, lessons, reviews, deals and more, direct to your inbox!