Ruokangas Launches the Valvebucker Mk2, a $2,000 Active Pickup Powered by Vacuum Tube
The Valvebucker Mk2 now brings its audiophile mojo to the Finnish custom guitar company's seven-string and four and five-string bass guitar formats, and arrives with a redesigned floor unit.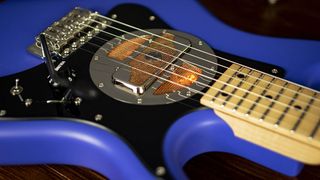 (Image credit: Ruokangas Guitars)
The Finnish boutique guitar company Ruokangas has unveiled a revamped version of its groundbreaking Valvebucker. As the name implies, this is an active electric guitar pickup that is driven by a vacuum tube in an onboard preamp, which, says Ruokangas – and its fans such as Sonny Landreth – gives players an audiophile experience that captures the sound of their instrument in high-fidelity.
The Valvebucker Mk2 is now available for seven-string electric guitars, and for four and five-string bass guitars, and. There is a catch, however. It is only available on newly ordered Ruokangas guitars as it can't be retrofitted, and it is priced between $2,000 and $2,200 depending on your options.
No matter how elevated your your taste in pickups, that ain't cheap. Also included in this new MK2 design is a newly designed floor unit, into which you send the signal from your Ruokangas guitar. Now featuring balanced XLR in/outs you can use this as a D.I. box. And just because Ruokangas likes Juha Ruokangas likes the finer things in life, both the Valvebucker and its floor unit have been redesigned to make them look even cooler, with the latter color-matched to your guitar.
How does all this work in practice? Well, the pickup itself is powered by military-grade, NOS triode and pentode tubes – covered with a lifetime warranty – and these drive a preamp circuit. The signal out from your guitar goes into the floor unit, out of which you can send your signal to your amplifier or to a desk for recording.
"The design architecture of the Valvebucker circuit is noteworthy, making use of sweet spots found from outside the typical operational points of vacuum tubes, by using relatively low voltages," says Ruokangas. "The power consumption of the Valvebucker remains within the given values also during startup - an important feature when using commercially available pedal power units."
Each pickup is handmade in Finland by a design team comprising Lassi Ukkonen, Jorma Kostamo, Jyrki Kostamo, Junnu Vuorela and, of course, Juha Ruokangas.
Ruokangas founded his company in 1995, and offers a line of seven core models, which you can then order custom specs on. The VSOP and Duke models are vintage-style double-cut models, while the Hellcat and Aeon offer contemporary Superstrat-esque platforms. The Steam is an offset bass, the Unicorn a refined singlecut, and finally the Mojo, which is the model favored by Landreth,
All of these can be fitted with a Valvebucker, and Landreth, for one, is more than happy with his. He loves his.
"If I had to sum it up with one word, it would be smooth as the Valvebucker is the smoothest sounding pickup I've ever experienced," Landreth said. "It kind of reminds me of the difference between vintage Neve and SSL consoles of the day. I especially like it for dialing in a big, clean tone with the selector switch in the middle position for my solo songs.
"The range from top to bottom for moving parts of bass lines against chord melodies etc is balanced and nothing 'pokes out' too much – much easier to let multiple parts speak. Also, I love how complex, distorted chords with open tunings for slide sound."
Sure, $2,000 bucks is not cheap. But then again, a vintage Gibson PAF humbucker might set you back 10 grand secondhand. Everything is relative.
For more details, head over to Ruokangas, and be sure to check out Guitar Player's review of the Ruokangas Duke Valvebucker.
All the latest guitar news, interviews, lessons, reviews, deals and more, direct to your inbox!