Inside the Audiophile Design of the Ruokangas Duke Valvebucker
With its tube-powered pickup, the Ruokangas Duke Valvebucker is a high-fidelity experience.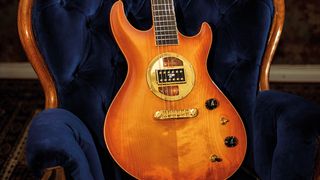 (Image credit: Future)
Founded in 1995 by guitar maker Juha Ruokangas, the Finland-based company that bears his name handcrafts astonishing instruments that are built by a small team of highly skilled people.
There are seven basic models in the Ruokangas line, which includes the Duke Classic (the Duke series also features the Artisan and Supersonic models) electric guitar spotlighted here as equipped with the optional tube-powered Valvebucker pickup.
I was initially turned on to the Valvebucker by Sonny Landreth, who said the sound of this unique pickup that he experienced on a Ruokangas Mojo guitar had such uncanny transparency and note detail that it sounded like it was running through a vintage Neve console pre and EQ.
Intrigued by Sonny's comments, and with his assistance, we eventually obtained a review sample from Ruokangas. Removed from its cream-colored case, the lightweight solidbody was a visual knockout, with a shapely offset-cutaway body made of Spanish cedar and capped with a carved top of thermally aged (or roasted) Arctic birch finished in a lovely amber Honeyburst shade.
"I find birch to be a perfect match with Spanish cedar, so I've stuck with that combo for nearly 25 years now," Ruokangas says. "The tone of birch is not too far from maple, but it has its own kind of low-mid shine, and, aesthetically, birch trees have way more variety than maple.
"They can be rather plain looking, but it can be anything – wildly flamed, curled, burled or quilted. I have collected birch for over 20 years, and as most of our guitars are custom made, the buyer gets to hand-pick the top."
Ruokangas reports that he discovered Spanish cedar in the early '90s while apprenticing for a master luthier who specialized in classical guitars.
"Even though Spanish cedar is the most common neck material in hand-made classical guitars, and more desirable than mahogany because of its light weight and superb stability, I found that nobody was really using it for electric guitars.
"A Finnish colleague of mine had made one and said it sounded great but was impossible to sell. In any case, I held on to the idea that maybe Spanish cedar could become my thing. Eventually a lot of younger-generation luthiers began using it, but at the time I was more or less alone with it."
The glued-in neck has a very comfortable and inviting shape that is based on a late-'50s Les Paul – specifically a '57 goldtop and a '59 'burst that are owned by a collector in Finland – and the East Indian rosewood fretboard has a 12-inch scale and carries 22 finely crowned and polished stainless-steel jumbo frets. The strings ride over a smooth, polished nut made of unbleached moose shinbone.
The Elixir Nanoweb .010–.046 strings are pulled to pitch by a set of Gotoh SGL510 locking tuners, and they load into a German-made ABM 3024 wraparound aluminum bridge that features unique locking studs.
"The locking studs are made by Jason Schroeder in the U.S.A.," Ruokangas says. "If you turn the guitar around, you'll notice that the bridge is anchored through the body with what we call lock-thru-body bushings. That part is our own invention and a solution to the old problem of wraparound bridges sometimes starting to lean forward over time due to the constant tension of the strings.
"That can never happen with these locking bushings. So it looks like one rock-solid bridge, but it is in fact a combination of three makers: one in Germany, one in the U.S., and the third in Finland."
The Duke played beautifully out of the box, thanks to an excellent factory setup that remained stable on the trip from Finland to Northern California, and the intonation was tuneful in all positions. These factors all contributed to a vibrant acoustic sound and good sustain.
The most obvious thing on the guitar is, of course, the large circular pickup mount, which has screened openings to vent the heat from the two tubes. Both are undisclosed NOS military-spec types from the 1950s (one triode and one pentode), and the voltage is raised in the guitar for proper operation.
The pickup itself is a humbucker made in Germany by Harry Haüssel, which is designed to work with the active electronics. So what's going on here that warrants the complication of installing what is basically a high-end tube-preamp in a guitar?
"If you think of all the traditional electric guitars and guitar sounds we love, most of it originates to technology based in the 1940s and '50s," Ruokangas says. "It's all passive magnetic pickups, and it's all pretty lo-fi. However, studio technology developed in a completely different direction at the same time.
"Neumann came up with their U47 microphone in the late '40s, and this legendary tube mic was able to capture sound in such a musically pleasing way that literally everybody started using it. The U47 was able to catch all the nuances of sound faithfully, be it the human voice, horns, or any acoustic instrument.
"So in a nutshell, the Valvebucker is an active electric guitar pickup that captures the instrument's nuances in a way similar to how the U47 works. We added a second gain stage for sculpting the tone further – hence, the second tube – and that's what the three-way lever switch does. The neck position is the Valvebucker in its natural form, and the other two positions represent two different examples of filtering/sculpting the sound back into more familiar electric-guitar realms."
I had a chance to play out on the day the Duke Valvebucker arrived, so I brought it along. The 12-volt AC wall-wart power supply connects to a separate box that uses an XLR cable to interface with the guitar; a 1/4-inch jack on the box then feeds your amplifier via a standard guitar cable.
Driving into a Fender Deluxe Reverb, the Duke delivered clear, richly expressive, and extremely open sounds that took well to pedals and didn't demand undue use of the tone controls on the guitar or the amp.
The three-way selector provides a nice range of tones, from beefy humbucker textures to slimmer, snappier sounds that are similar to what you'd get from a Tele or a Strat. There is also a 6dB boost switch that is handy for kicking up the level for solos.
This guitar felt familiar enough to use it on a gig on short notice, and yet, with more time to plumb its depth, I found that there is definitely a degree of detail and articulation and harmonically pleasing "juiciness" in the sound that makes this instrument its own animal – at least from the perspective of most solidbody electrics.
Bottom line: The Duke Valvebucker definitely opens up new sonic territory that players who love hi-fi sounds will want to explore, and this alone makes it worthy of investigation for anyone who thinks they've heard it all and can appreciate the possibilities that lurk in the melding of two very different audio technologies from the past.
All the latest guitar news, interviews, lessons, reviews, deals and more, direct to your inbox!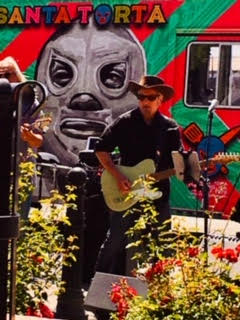 Art Thompson is Senior Editor of Guitar Player magazine. He has authored stories with numerous guitar greats including B.B. King, Prince and Scotty Moore and interviewed gear innovators such as Paul Reed Smith, Randall Smith and Gary Kramer. He also wrote the first book on vintage effects pedals, Stompbox. Art's busy performance schedule with three stylistically diverse groups provides ample opportunity to test-drive new guitars, amps and effects, many of which are featured in the pages of GP.