RockBoard Unveils New PedalSafe Covers
Protect your pedalboard and beloved pedals from errant beer and other hazards.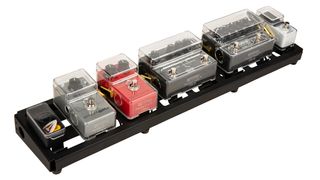 (Image credit: RockBoard)
RockBoard has unveiled its new PedalSafe rubber covers.
Designed to protect your beloved pedals from errant beer, sweat and other hazards, the covers are transparent and feature removable caps for access to your pedals' controls and jacks. 
The covers are clamped onto mounting plates, which in turn can be attached to your pedalboard with screws or Velcro tape.
The PedalSafe covers are compatible with RockBoard's QuickMount system, which allows for pedals to be added or removed to a RockBoard pedalboard by clicking in or out of the surface's slotted grid.
The RockBoard PedalSafe covers will be available at the end of June. Their price has yet to be announced.
For more info on the products, stop by rockboard.de.
Get the latest news, reviews and product advice straight to your inbox.
Thank you for signing up to TO_UPDATE_FROM_FLEXI_UI. You will receive a verification email shortly.
There was a problem. Please refresh the page and try again.