Old Blood Noise Endeavors Unveils Updated Alpha Haunt Fuzz Pedal
The streamlined Alpha Haunt arrives in a pedalboard-friendly package that makes use of a highly versatile control layout consisting of 12 individual controls.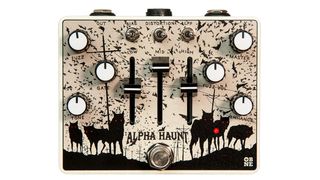 (Image credit: Old Blood Noise Endeavors)
Old Blood Noise Endeavors has unveiled an updated version of its Alpha Haunt Fuzz pedal, which promises the same full-throttle fuzz tones in a more pedalboard-friendly package.
The original OBNE pedal of the same name debuted in 2019, and featured an incredibly versatile tone control layout that boasted 12 controls. The new streamlined iteration of the Alpha Haunt Fuzz features those same controls, although in a new layout that allows for easier integration into busier pedalboards.
Tonal adjustments are made via a slider-controlled three-band EQ and six knobs dedicated to controlling fuzz, gate, tone, master, fuzz volume and enhance parameters. While the master control adjusts the overall output level, the enhance knob acts as a clean boost that delivers greater string-clarity and deep low-end tones.
Further controls appear in the form of three toggle switches, which introduce further tonal variety through switchable fuzz range, bias and tone control voices.
A small deviation from the original is the appearance of the bias switch, which was a control knob on the previous pedal. However, the parameter serves the same function on the new reimagining of the Alpha Haunt as it did on the original.
Said Old Blood Noise Endeavors: "It's the same 12-controlled fuzz you all know and love, the sounds are all there... it's just in a smaller case. It fits in a few more places than it used to."
With help of its highly versatile control set, the pedal itself seeks to deliver an "endless world of fuzz" and create a blank canvas for fuzz-fueled experimentation.
The Old Blood Noise Endeavors Alpha Haunt Fuzz pedal is available now for $229.
For more information, visit Old Blood Noise Endeavors.
All the latest guitar news, interviews, lessons, reviews, deals and more, direct to your inbox!