Monty's Guitars Promises an Ultra-Accurate Replication of Peter Green's "Out-of-Phase" Tone with New Bethnal Green Humbuckers
The PAF set was designed based on hands-on, in person analysis of "Greeny," the Fleetwood Mac co-founder's legendary '59 Les Paul.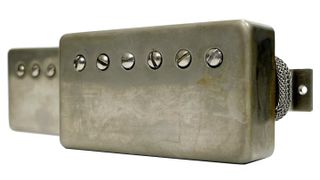 (Image credit: Monty's Guitars)
Plenty of ink has been spilled over the decades about "Greeny," the 1959 Gibson Les Paul Standard boasting the serial number 9 2208.
Owned first by Fleetwood Mac's Peter Green and subsequently by Gary Moore and Metallica's Kirk Hammett (its current owner) the electric guitar is famous for its one-of-a-kind "out-of-phase" tone, a product of Green replacing Les Paul's original neck pickup and accidentally putting it in backwards, creating the aforementioned sound when played in the middle position.
It's this legendary tone that Monty's Guitars seeks to recreate with its meticulous new Bethnal Green humbucker set.
The company's head honcho, Matt Gleeson, was once afforded the opportunity to study Greeny at length, taking measurements and readings of its pickups (though he was not allowed to take apart the pickups themselves) before the guitar came into Hammett's possession. Gleeson imparted this hands-on experience with Greeny into the Bethnal Green set.
To that end, the Bethnal Green 'buckers are hand-made with period-correct parts – Alnico II magnets, unpotted coils, pure nickel silver, aged covers with nickel silver baseplates and correct tooling marks, and brass baseplate screws.
While the bridge coil is wired with 42 gauge plain enamel, the neck is wired with 42 gauge heavy formvar. In an interview with Andertons – which you can watch above – Gleeson explained the significance of including formvar wiring.
"He had the famous Greeny 'Burst and the neck pickup was busted and he had to get in rewound," Gleeson says. "At the time he could only get a different type of wire, which is heavy formvar, which is typically what you find in Strat pickups. So the neck pickup was rewound with that."
Of course, there's more to the Greeny pickup than just the wire, there's also the flipped alnico magnet. Whether it was a mistake on Gibson's end or an aftermarket mod – the recent discovery of "Gemini," the Les Paul Standard made directly before Greeny, suggests that it was indeed an aftermarket quirk – the flipped magnet is included in the Bethnal Green set.
"They're very different to the stock PAFs we make," Gleeson says of the uniqueness of the Bethnal Greens. "The bridge pickup is a lot more powerful, so a lot more mids in there. And the neck pickup obviously has all the weird stuff that went on with it and is a completely different beast."
Perhaps unsurprisingly, Monty's Guitars' first batch of Bethnal Green humbuckers has already completely sold out. Due to the scarcity of the parts used to build them, Monty's says it can't yet estimate when the next batch will be made available.
Whenever they return, they'll be available for £375 (just over $500).
For more info on the pickups, head on over to montysguitars.com.
All the latest guitar news, interviews, lessons, reviews, deals and more, direct to your inbox!
Associate Editor, GuitarWorld.com and GuitarPlayer.com
Jackson is an Associate Editor at GuitarWorld.com and GuitarPlayer.com. He's been writing and editing stories about new gear, technique and guitar-driven music both old and new since 2014, and has also written extensively on the same topics for Guitar Player. Elsewhere, his album reviews and essays have appeared in Louder and Unrecorded. Though open to music of all kinds, his greatest love has always been indie, and everything that falls under its massive umbrella. To that end, you can find him on Twitter crowing about whatever great new guitar band you need to drop everything to hear right now.