Marcus King and Greta Van Fleet's Jake Kiszka Featured on New Ida Mae Album
Ida Mae guitarist Chris Turpin gives GuitarPlayer.com the inside scoop on Nashville's hottest collaboration.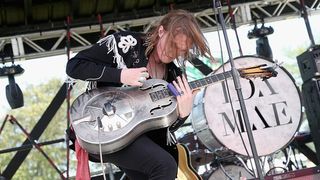 (Image credit: Gary Miller/Getty Images)
Having been on standby in the sleepy, picturesque city of Bath, UK, Ida Mae are currently experiencing a culture shock. "We just went from 15 months off the road to driving through Central New York on the July 4 weekend!" laughs the duo's guitarist/vocalist Chris Turpin. "But we kind of got used to it in a couple of days. It's like we never stopped."
Well versed at life on the road, Ida Mae clocked up thousands of miles on tour while supporting the likes of Willie Nelson & Alison Krauss, Greta Van Fleet, and Marcus King. That was until the pandemic suddenly forced them into isolation at their home-from-home in Nashville.
With touring on hold and their heads full of ideas, Turpin and the 'other half' of Ida Mae – multi-instrumentalist/vocalist Stephanie Jean – promptly set about recording their sophomore album, Click Click Domino.
Ida Mae's latest long-player may have been tracked in the confines of their lounge room, but it features contributions from a host of musicians often thousands of miles apart. Such is the joy of modern technology.
"Everything except the acoustic drums, bass and strings was recorded at our place in Nashville," says Turpin. "Ethan Johns [Paul McCartney, Tom Jones, Kings of Leon] tracked the drums in his studio in Frome in the UK, and Nick Pini, our bass player, also tracked his parts separately in London.
"But as Marcus King and Jake Kiszka also live in Nashville, they were able to come round to ours and track their solos."
How did you cross paths with Jake Kiszka initially?
A few years ago, when Ida Mae were on the road, we were invited to open for Greta Van Fleet at the Fox Theatre in Detroit. They had three headline shows there in the gap between Christmas and New Year [in December 2018]. Jake and I were talking music and I said, "I've been waiting for a rock 'n' roll band like you guys for ten years!"
Greta Van Fleet then invited us to another show in Seattle and we ended up doing a European run with them. We just hit it off. Jake's dad is really into country blues and is a blues harmonica player. So, Greta know a lot about blues and they know about British folk. And they're obsessed with early British rock 'n' roll. They're like me – they always want to trace things back to the source and find out where it came from. That's how we became good friends.
How did Jake Kiszka's collaboration with Ida Mae come about?
We were also on the road with Willie Nelson, and he was playing that classic song everyone knows called "On the Road Again" which is such a sweet song. Y'know, "Just can't wait to get on the road again, The life I love is making music with my friends..." It's their touring song. I just thought maybe we should write a little something like that for Click Click Domino because we've been on the road so much. We came up with "Long Gone & Heartworn" and it just felt appropriate to have Jake Kiszka play on it.
Greta Van Fleet moved to Nashville not too long ago, as did we. So, we just invited them over for a curry. This was at the beginning of the pandemic. Everyone was grounded, and all tours were cancelled. So, we had plenty of time on our hands. I just asked Jake and he said, "It would be an honor." I said, "Well, let's do it!"
"Long Gone & Heartworn" was supposed to be a simple, gritty, kind of Dr. Feelgood "She Does It Right" vibe. I used to go and see Dr. Feelgood a lot when I was a kid. I remember my dad taking me to a local gig at the Waterfront in Norwich. That was when I first remember seeing a Telecaster wielded in anger. [laughs]
Were Dr. Feelgood an inspiration for you musically?
I've always really admired them. I love that clean, punchy thing – it's a different flavor of punk and blues. Dr. Feelgood were like proto-punk meets Chess Records. Back in the '70s, they were doing the so-called 'pub rock' thing in England and they were also playing at CBGB in New York. But it was all pre-punk, really. It was a strange mixture of mod, rock, and punk.
How do you relate to Jake Kiszka in terms of playing style?
He's in a totally different world to me. I'm a lot gentler when it comes to electric guitar stuff. Playing in a duo and in open tunings means my guitar style is based more around songs, shapes, chords, movements, and rhythms. Whereas Jake is a brutally raw kind of player. He's frenzied and completely frenetic. It's the sort of guitar playing I like – where it always feels as if the wheels are about to fall off.
Jake is one of those guitar players where sometimes it's astonishing, and sometimes it's almost there but you don't care, y'know? He's much like me: he's not overeducated in terms of musical training and so he's created his own way of playing.
What gear did you use to record "Long Gone & Heartworn"?
I ran my Silvertone Speed Demon into an early '60s Magnatone [model 410] amp and an early '70s silverface [Fender Vibro] Champ. And for my solo, I used my Candy Apple Red [American Professional] Fender Telecaster.
Jake showed up with no equipment, so for his solo he used my Gretsch [G6128T-53 Vintage Select '53] Duo Jet with flatwound strings tuned down and picked out a 1960 Fender tweed Champ.
We didn't completely crank the amps; we pushed them with pedals a little bit. I think Jake used a Z.Vex Box of Rock. Marcus [King] certainly used the Box of Rock when he recorded his solos on "Click Click Domino" and "Deep River". In fact, unbeknownst to each other, they picked out exactly the same guitar and amp to record with!
How did you approach recording your solos on "Long Gone & Heartworn"?
I said to Jake, "I've left these bars open in the track. Let's go side-by-side and take a line each. Let's keep it spit-y and quick." So, it was pretty much a case of just pressing record and seeing what happens. 90% of what you hear on the record is first take. But because Greta have been working so fastidiously in the studio crafting away at their music, we ended up doing about another 10 or 12 takes, just to see if we could better it.
What did Jake Kiszka contribute to "Long Gone & Heartworn" in terms of ideas?
Jake was excited to see where we could push it and he suggested all sorts of things. You'll notice in the solo, there's a big kind of Hendrix-style pan which is a divebomb on the Gretsch Duo-Jet. It was his idea to float that panning around left and right. He also wanted to extend the solo. At the end, we come together and play the melody before it drops back in – that was also Jake's idea.
Jake was chasing these ideas and I said, "I'm happy with what I did. If you want to keep going, go for it. But I guarantee you your first take was it. So, he took another few more goes, and it ended up being the first take (except for one small thing we changed). It's really got that first take feel!
Order your copy of Ida Mae's Click Click Domino here.
All the latest guitar news, interviews, lessons, reviews, deals and more, direct to your inbox!
Rod Brakes is a music journalist with an expertise in guitars. Having spent many years at the coalface as a guitar dealer and tech, Rod's more recent work as a writer covering artists, industry pros and gear includes contributions for leading publications and websites such as Guitarist, Total Guitar, Guitar World, Guitar Player and MusicRadar in addition to specialist music books, blogs and social media. He is also a lifelong musician.