Manson Takes the T-Style Back to the Future With Limited Edition DL-2 and MB-2 Matt Bellamy Signature Guitars
The DL-2 offers a more affordable version of the Muse guitarist's DeLorean model, while the tricked-out MB-2 is equipped with X/Y MIDI screen controller, a Sustainiac Pro, and dual DB-90 pickups.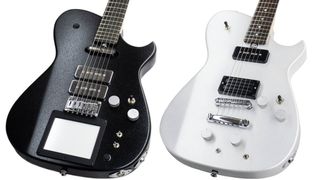 (Image credit: Manson Guitar Works)
Manson Guitar Works has unveiled a pair of limited edition Matt Bellamy signature electric guitars that offer a most spectacular 21st-century twist on the T-style design archetype.
And yet, the new for 2022 DL-2 and MB-2 might be recognizable to some players. The DL-2 is a more affordable – but still super-premium – version of the Muse frontman's DeLorean model, while the MB-2 is inspired by a limited-run SE model from 2012, and arrives in the MB-1 matte black finish that has become a lietmotif of the Bellamy-owned brand.
It is hard to pick which of these guitars is the most audacious – both offer a playing experience that extends the potential of the instrument, with the DL-2 boasting onboard effects by way of Z-Vex USA custom Manson Fuzz Factory and MXR Phase 90 circuits. No need to reach for the pedalboard.
The MB-2, meanwhile, has a custom X/Y MIDI screen controller that you can hook up to a Korg Kaoss Pad or a DigiTech Whammy for maximum thrills and audience engagement. Robo-glove and OLED aviator sunglasses sold separately.
Image 1 of 2
But even before engaging with this bespoke circuitry, these are very much future-forward designs. Fundamentally, they both share a similar silhouette, have solid alder bodies, birds-eye maple necks carved into a Bellamy-approved MB V profile, with 12" to 16" compound radius fingerboards – rosewood on the DL-2, ebony or rosewood for the MB-2 – giving them a contemporary shred guitar feel.
Gotoh hardware is deployed across both models, with the MB-2 offering a six-saddle hard-tail and the DL-2 a tune-o-matic bridge and tailpiece. The guitars' custom aluminum dials look like they've been purloined from the control console of a space ship. Very on-brand for Manson and Bellamy.
The DL-2 has a Manson Mother Superior multi-rail humbucker at the bridge position, with a Manson Manson DB-90 at the neck. Controls include a kill switch, volume, tone with push/pull coil-split, a three-way pickup selector, toggle switches for the Z.Vex and MXR effects circuits, Stab and Comp dials for the Fuzz Factory.
Image 1 of 2
There is a kill switch on the MB-2 also, but this offers a very different set of tones. The Sustainiac at the neck can offer infinite sustain or be used as a full-range active pickup, while a pair of Manson DB-90 pickups sit at close proximity in the bridge and near-to-middle positions.
Both guitars ship in Hiscox hard-shell cases and come with a certificate signed by Matt Bellamy. The MB-2 is limited to two runs of 20 instruments and ships now, priced from £4,299 (approx $4,940), while the DL-2 is priced £3,999 (approx $4,595) and limited to two runs of just 10 units.
See Manson Guitar Works for more details.
All the latest guitar news, interviews, lessons, reviews, deals and more, direct to your inbox!