Legendary Tones Unveils New Lynch Mod Tube Module
Designed in tandem with George Lynch, the mod aims to expand the gain of classic Marshalls.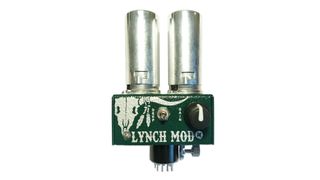 (Image credit: Legendary Tones)
Legendary Tones has teamed up with hard-rock guitar hero George Lynch to create the new Lynch Mod tube module for classic Marshall amplifiers.
An adjustable tube gain stage with bass boost/cut control, the hand-wired Lynch Mod features two 12AX7 tubes, and – according to Legendary Tones – can be installed in minutes and requires no special tools or amp re-biasing. All you have to do is insert the Lynch Mod into the middle V2 preamp position.
The Lynch Mod's Deep control provides a bass boost, while turning it off tightens the low-end. The Gain knob meanwhile, gives you everything from mild gain to red-hot sustain.
"Finding that balance between pre vs. power amp gain, sag, sustain, dynamics and touch-sensitivity in an amp has been a perpetual challenge," Lynch said of the module. "To my ears, the Lynch Mod is an impressive one-stop solution that gets you there."
The Legendary Tones Lynch Mod is available now for $299.
For more info on the module, stop by legendarytones.com.
Get the latest news, reviews and product advice straight to your inbox.
Thank you for signing up to GuitarPlayer. You will receive a verification email shortly.
There was a problem. Please refresh the page and try again.