Joe Bonamassa: This Was the Hardest Thing for Me to Get the Hang of on Guitar
The blues guitar master opens up about something he struggled with early on in his playing journey.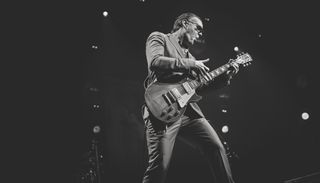 (Image credit: Alison Clarke/Future)
Pandemic or not, blues guitar master Joe Bonamassa has kept plenty busy in recent months, completing and prepping for the release of his new album, Royal Tea.
The long-teased new album was recorded at Abbey Road Studios in London, and was inspired by Bonamassa's British blues-rock guitar heroes - Jeff Beck, John Mayall & The Bluesbreakers, Eric Clapton and Cream.
Bonamassa recently sat down for an insightful interview with Glide magazine, where he chatted about the new album, writing and the one thing he struggled with the most when first mastering the guitar as a youngster.
"I think developing your own tone is difficult," Bonamassa said. "It's not hand-eye coordination, it's muscle memory and it's strength in your hands. It's the note within the note, the little subtleties that make a pro a pro. When you hear someone that has been doing it for a long time, you know that person knows what they're doing, cause they have control over every aspect of the instrument.
"The instrument doesn't control them," he continued. "That's what you look for in a great guitarist. That's what you look for in a great race car driver. That's what you look for in someone who has been in business or any profession. It's the macro, it's the little things, the subtle things.
"Like, anybody can ask questions, okay, but do you ask interesting questions that not only interest yourself but also the reader or the viewer. That's the difference between being a pro and just asking questions. And it's the same thing with guitar.
Royal Tea - which was produced by longtime Bonamassa producer Kevin Shirley - is set for an October 23 release via Provogue/J&R Adventures.
To preorder the album, step right this way.
Get the latest news, reviews and product advice straight to your inbox.
Thank you for signing up to The Pick. You will receive a verification email shortly.
There was a problem. Please refresh the page and try again.