Joe Bonamassa Premieres New Song, "A Conversation With Alice"
The deeply personal new song is the first single from Bonamassa's as-yet-untitled new album, which was recorded at Abbey Road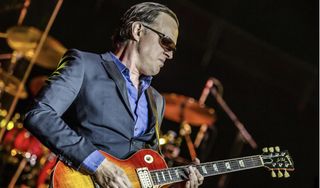 (Image credit: Robert Sutton)
Though he just released a new album last week with his Sleep Eazys side project - the instrumental Easy To Buy, Hard To Sell - Joe Bonamassa is back with another new single, "A Conversation With Alice."
The first single from as an as-yet-untitled new Bonamassa album, which was recorded at Abbey Road, "A Conversation With Alice" is a deeply personal, unfiltered look into the blues guitar master's life.
You can check out the song's studio-filmed music video below.
"The song is derived by an experience I had a couple years ago when some friends of mine intervened and said 'You know what Joe? You should go ahead and talk to someone about these problems you have that come up time and time again.' So, I agreed," Bonamassa said in a statement.
"I went to see this lovely woman in Los Angeles and began talking about my problems. After the second session I came to the conclusion that I was unrepairable and that the crazy in me makes me good at my job. I like being good at my job.
"I think I'm good at my job, unless you ask the internet. Which then there's some debate, which bolsters the crazy. See how it's all interrelated? So, I wrote a song about it."
Though there's no release date as of yet for Bonamassa's new, Abbey Road-recorded album, we'll keep you posted with updates as we receive them.
For now, head on over to jbonamassa.com for more info on Bonamassa and his music.
Get the latest news, reviews and product advice straight to your inbox.
Thank you for signing up to The Pick. You will receive a verification email shortly.
There was a problem. Please refresh the page and try again.