Joanne Shaw Taylor Reunites With Joe Bonamassa and Josh Smith for New Studio Album, Nobody's Fool
Nobody's Fool is out October 28 and features guest spots from Carmen Vandenberg, JoBo himself, and Dave Stewart of the Eurythmics.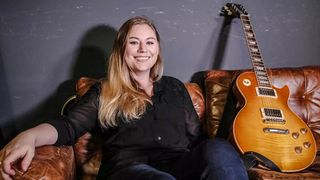 (Image credit: Christie Goodwin)
Joanne Shaw Taylor has announced the release of a new studio album, Nobody's Fool, which once more sees the English blues guitar sensation team up with the dynamic production duo of Joe Bonamassa and Josh Smith.
Released October 28, via Bonamassa's KTBA imprint, Nobody's Fool is the second time in as many years that Taylor has hooked up with the Bonamassa and Smith, and follows her superlative recording of blues standards, The Blues Album.
Nobody's Fool finds both Bonamassa and Smith occupying rhythm guitar duties, while Lemar Carter plays drums, Calvin Turner is on bass guitar, and Deron Johnson lends his keys skills to piano/Wurlitzer/B3.
Taylor corralled a number of guests for the recording, with Bones UK guitarist Carmen Vandenberg appearing on "Figure It Out." Cellist Tina Guo, who is more commonly found playing film scores alongside Johnny Marr as part of Hans Zimmer's film-score troupe, plays on "Fade Away."
And there is also a collaboration that takes Taylor's career full circle as she performs a cover of the Eurythmics' "Missionary Man" with Dave Stewart, who famously is credited with discovering Taylor's talent.
Having Joe Bonamassa in the studio and not having him record a guitar solo would just be silly, and Taylor duly presses him into action on "Won't Be Fooled Again."
It was no surprise that she would reach out to Bonamassa and Smith for this album. Taylor and Bonamassa are old friends, and the Bonamassa/Smith team is by now one of the most in-demand production teams in blues. Speaking to Guitar Player last year, Taylor said it was "incredible" working with the duo.
"Joe and I have known each other a long time, but this was our first time doing a record together," she said. "We spent a couple of days at his house going over songs, just so I could figure out the keys, but there was nothing that didn't work. We didn't do demos. Once we had the songs all picked out, we were both like, 'Okay, we're going in.'"
Despite knowing him for years, Taylor had not played guitar with Bonamassa that often. The Blues Album was the first studio recording where Bonamassa played rhythm, Taylor playing leads, with Bonamassa taking a solo on "Don't Go Away Mad."
"I could have played rhythm on the album, but why do that when I have a more than capable guitarist right there?" said Taylor. "He played the first solo on 'Don't Go Away Mad,' and I played the second one. I think we complemented each other really well.
"We're both inside the blues scale and the minor pentatonic, but I think our influences are quite obviously different. I'm from Britain and grew up worshipping the Texas guys, and he's from America and grew up worshipping the British guys."
Taylor has shared the first single from Nobody's Fool. "Just No Getting Over You (Dream Cruise)" is available on most streaming platforms (Spotify users can check it out above). Nobody's Fool is available to pre-order now.
Taylor tours the US in October, kicking off in Skokie, Illinois, on album release day, October 28. See Joanne Shaw Taylor for full dates.
All the latest guitar news, interviews, lessons, reviews, deals and more, direct to your inbox!