"Wait a minute – that's the guy that plays guitar with his teeth!" Watch the new official mini-documentary that captures the seven crazy nights the Jimi Hendrix Experience spent opening for the Monkees
Experience Hendrix has made a short documentary with archive interviews with Mitch Mitchell, Noel Redding and Micky Dolenz about the Jimi Hendrix Experience's explosive few gigs with the Monkees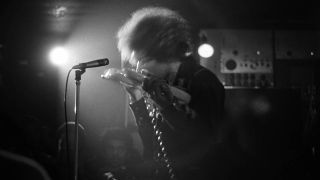 (Image credit: Chris Morphet/Getty Images)
Experience Hendrix have released a new short documentary (just under 13 minutes long), that captures the story of the time, in 1967, that the Jimi Hendrix Experience opened for the Monkees across the USA.
Although Monkees drummer Micky Dolenz was a fan of Hendrix, who'd caught him live as support to the John Hammand Jr band at the Cafe Wha in New York in 1966, the pairing was not a great one. The Monkees were a teen sensation at the time, and their audience was intolerant of all support acts, let alone one as wild as Hendrix.
Each night, the crowd would chant for the Experience to get off. Eventually, as manager Chas Chandler explains, they concocted a story that a group called the Daughters of the American Revolution had complained about the "erotic" nature of Jimi's performance. In the end, it was great publicity, and a weird footnote in the Hendrix story that had started with a tour with the much more suitable Jefferson Airplane. Unfortunately, suggests Chandler, Airplane couldn't bear being upstaged by Jimi every night.
"Jefferson Airplane were top of the bill," says Chandler, "Jimi was second and Big Brother and the Holding Company were the opening act. We'd done two nights there and Jefferson Airplane cried off because Jimi just crucified them. Murdered them onstage and they pulled out."
US manager Mike Jeffries had an idea. He got them a spot on the Monkees tour.
Predictably, it ended badly. It was the height of Monkees-Mania and the tastes of the teenage audience did not extend to the high-voltage psychedelic rock of the Jimi Hendrix Experience – yet. Jimi would play with his teeth, "make love" to his guitar and then set fire to it.
"Jimi was from another world," says Monkees publicist Barbara Hamaker, "and that was pretty obvious pretty quickly."
In August the Experience supported the Mamas and the Papas at the Hollywood Bowl. It was the last time they would be the support act for anyone.
All the latest guitar news, interviews, lessons, reviews, deals and more, direct to your inbox!
Tom Poak has written for the Hull Daily Mail, Esquire, The Big Issue, Total Guitar, Classic Rock, Metal Hammer and more. In a writing career that has spanned decades, he has interviewed Brian May, Brian Cant, and cadged a light off Brian Molko. He has stood on a glacier with Thunder, in a forest by a fjord with Ozzy and Slash, and on the roof of the Houses of Parliament with Thin Lizzy's Scott Gorham (until some nice men with guns came and told them to get down). He has drank with Shane MacGowan, mortally offended Lightning Seed Ian Broudie and been asked if he was homeless by Echo & The Bunnymen's Ian McCulloch.