J Mascis Is Honored by Electro-Harmonix With Signature Ram's Head Big Muff Pi
Dinosaur Jr.'s Jazzmaster-wielding fuzz merchant now has his own EHX model.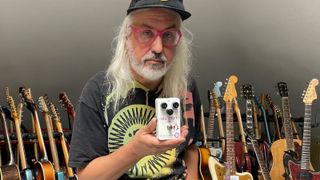 (Image credit: EHX)
To us guitar players, the words 'rams head big muff' mean something different.
But to J Mascis, they represent something truly special.
Having amassed an impressive collection, the alt-rock legend is regarded as a connoisseur of the Electro-Harmonix Big Muff Pi.
He's used them in Dinosaur Jr. for years and the thick distortion they yield is as much a part of his signature sound as anything.
Now, the New York effects pedal pioneer has added the J Mascis Ram's Head Big Muff Pi (opens in new tab) to their extensive line of Muffs (opens in new tab) that also includes [deep breath] the Nano Metal Muff, Ram's Head Big Muff Pi, Sovtek Deluxe Big Muff Pi, Triangle Big Muff Pi, Op Amp Big Muff Pi, Green Russian Big Muff Pi, Nano Bass Big Muff Pi, Deluxe Big Muff Pi, Nano Big Muff Pi, Deluxe Bass Big Muff Pi, Germanium 4 Big Muff Pi, Big Muff Pi with Tone Wicker, Bass Big Muff Pi, Little Big Muff Pi, Metal Muff with Top Boost and – last but not least – the good ol' Big Muff Pi.
That's a lot of Muff.
Priced $131.50, EHX says the new stompbox "pays homage to the sonic center of the alt-rock legend's iconic tone of equal parts thickness and clarity."
Recalling the first time he came across a Muff, Mascis says, "I got it pretty soon after I got my guitar. On the first Dino album [1985's Dinosaur (opens in new tab)] I have it listed as an instrument – like I played guitar and Big Muff."
Mascis's first Muff was one of the larger, Howard Davis (opens in new tab)-designed Deluxe units that appeared in the late '70s.
Next, he acquired a 'ram's head' version. Featuring red, purple, blue or black graphics, the name comes from a so-called ram's head motif positioned in the bottom-right corner.
Superseding the 'triangle' Muffs that debuted in '69, the ram's head units appeared in '73 and were around for a few years before EHX settled on the more common red and black graphics.
"All distorted sounds begin with the Muff," says Mascis. "The Muff is always on."
Visit Electro-Harmonix (opens in new tab) for more information.
Get the latest news, reviews and product advice straight to your inbox.
Rod Brakes is a music journalist with an expertise in guitars. Having spent many years at the coalface as a guitar dealer and tech, Rod's more recent work as a writer covering artists, industry pros and gear includes contributions for leading publications and websites such as Guitarist, Total Guitar, Guitar World (opens in new tab), Guitar Player (opens in new tab) and MusicRadar (opens in new tab) in addition to specialist music books, blogs and social media. He is also a lifelong musician.
Thank you for signing up to The Pick. You will receive a verification email shortly.
There was a problem. Please refresh the page and try again.