Historic 'First Les Paul' to go on sale
The first approved, production-model Gibson Les Paul to be presented to its namesake in 1952 is to be auctioned in New York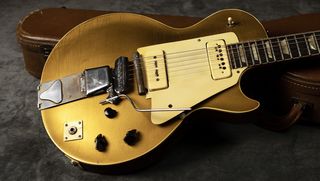 (Image credit: Justin Borucki)
The guitar that began a legendary line of Gibson electrics is to go under the hammer at auction-house Christie's in New York on Oct 13.
Les Paul, who gave his name to Gibson's iconic singlecut, was one of the biggest guitar stars of the 20th Century, earning numerous Number One hits and Grammy Awards during his lifetime. But he was also a pioneer of electric guitar design, whose experiments with early solidbody electric instruments preceded the electric guitar revolution of the 1950s by several years.
The historic 'Number One' Les Paul that is to go on sale at the Christie's Exceptional Sale in October was the earliest approved production model to be presented to Les by the company in 1952 after a long development process guided by Les's design input. It remains the most important guitar - both musically and historically - that he ever owned.
Gene Paul, an award-winning producer who learned his craft from his virtuoso father, says the guitar "was the most historically significant, valuable, pivotal, and important guitar to my father, his crowning achievement."
Tom Doyle, Les's right-hand man and guitar tech from the 1960s onwards, agrees that the guitar is of unique historical significance adding that Les was the prime mover in getting solidbody electrics to be taken seriously by Gibson.
"Les brought his idea to Gibson and they initially dismissed it outright, but Les was dogged," says Doyle. "He held strong to his ideas and his beliefs, knowing that someday they would see the light. Les kept tinkering and inventing, and making his concept better and better. Then finally after about 10 years, and after lots of trial and error, the good folks at Gibson presented this very guitar to Les. He was smitten, and he was overjoyed… and the rest, as they say, is history."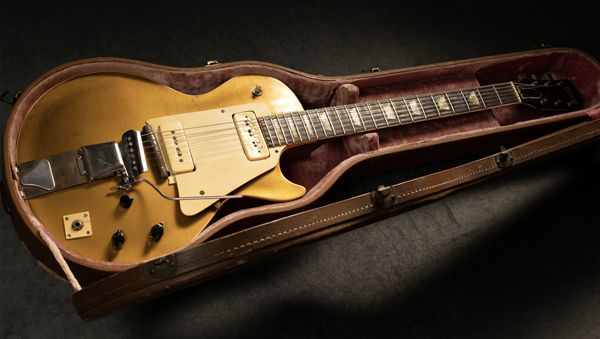 GP's sister magazine Guitarist has been granted in-depth access to the guitar due to go on sale at Christie's and, as the images in this article show, the guitar was modified numerous times during its time with the master guitarist. Some of these innovations, such as a hum-cancelling 'Q Coil' housed beneath the enlarged scratchplate preceded the invention of humbucking pickups by several years, highlighting Les's pivotal role as an innovator in electric guitar history. It is also notable for the modded Kauffman Vibrola at the bridge and DynaSonic internals beneath a hand-drilled P-90 neck pickup cover, plus scores of other smaller innovations.
Kerry Keane, Christie's consultant and Musical Instruments Specialist, commented: "In any creation narrative there are always multiple protagonists, but the name Les Paul ranks at the pinnacle when discussing the electric guitar. His development of multi-track recording, and audio effects like delay, echo, and reverb all profoundly influenced how music is reproduced and heard.
"Yet his lifelong search and development in perfecting the electric guitar would forever change the instrument. That transformation is responsible for the successful careers for generations of guitarists that performed on the Les Paul guitar. This guitar physically embodies his endless passion that produced the most iconic musical instrument in popular culture."
Look out for a major feature on this historic instrument in Guitarist magazine soon including the untold story of how Les Paul and Gibson gave birth to the company's greatest electric guitar, plus a deep dive into the mods and specs of this iconic guitar.
All the latest guitar news, interviews, lessons, reviews, deals and more, direct to your inbox!