Hamstead Soundworks Unveils New Ascent Clean Boost Pedal
This unique boost was hand-built by techs for AC/DC, Guns N' Roses, Queen and more.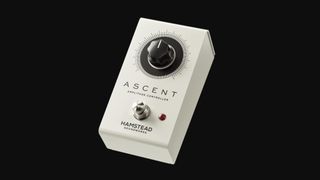 (Image credit: Hamstead Soundworks)
Hamstead Soundworks has unveiled its new Ascent clean boost pedal.
Created by Hamstead in partnership with a group of backline techs who've worked with AC/DC, Queen, Guns N' Roses, Iggy Pop and more, the Ascent is a pure clean boost pedal featuring 20dB of gain, ±15v internally isolated power for 30v headroom, buffered or true bypass operation and an OptoKick footswitch built by TheGigRig.
Each Ascent pedal is hand-soldered, signed and dated by the tech that built it, while Daniel Steinhardt and TheGigRig team are contributing 15 percent of the cost of every footswitch.
The Hamstead Soundworks Ascent clean boost pedal will be available - exclusively on Reverb - starting July 24 for $199. Profits will go directly to the techs that built the pedals, while an additional 10 percent of the profits will be donated to helpmusicians.org.uk.
For more info on the pedal, stop by hamsteadsoundworks.com.
Get the latest news, reviews and product advice straight to your inbox.
Thank you for signing up to GuitarPlayer. You will receive a verification email shortly.
There was a problem. Please refresh the page and try again.