GP Presents the North Mississippi Allstars on February 5 in San Francisco – Win Tickets
Guitar Player welcomes Luther Dickinson and company back to the Independent in the heart of the City by the Bay for a Saturday night celebration.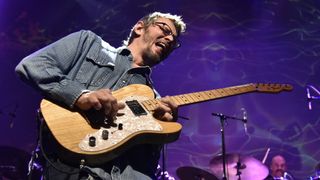 (Image credit: Tim Mosenfelder/Getty Images)
Luther Dickinson is a roots guitar maestro who has led the North Mississippi Allstars for a quarter century and is a touring member of the Allman Family Revival.
Dickinson has graced the pages of GP numerous times, including a 2008 cover story when he was a member of the Black Crowes alongside Rich Robinson. The new Allstars album, Set Sail, features some of Dickinson's most soulful tunes and slinky slide playing. He shares deep insights in GP's March issue, which contains a feature interview as well as a lesson in the Frets Learn column.
In the lesson Dickinson says, "I've been obsessed with fingerpicking in odd times and odd groupings of five and seven. What really turned me out at first is how easy it is to do five if you just roll up and back down: thumb, index, middle, index, thumb."
In the feature Dickinson says, "Thinking about the guitar fretboard horizontally can be hipper than vertically because the melody is there. It gives the phrasing a vocal quality. If you can connect your ear and your mind with your heart and your hand playing intervals on one or two strings, then the whole guitar just kind of unlocks itself."
He adds, "I'm addicted to playing behind the slide, letting fretted notes pop out to provide something solid you can hang your hat on amidst all the squirrelly slide microtones."
He also reports that Set Sail is a "transitional record" in terms of tone. Dickinson has always been closely associated with the throaty tone of a Gibson hollowbody with either a humbucker or P-90s in the neck position, but he has recently fallen in love with the sound of Lollar's Regal pickups coming through his signature Category 5 amps.
Dickinson says, "Those wide-range style pickups are so clean, chimey, and bell-like that you can hear each note in every chord. That's my new sound."
Come hear it in San Francisco on February 5. The Allstars' new lineup features vocalist Lamar Williams Jr., son of Allman Brothers bassist Lamar Williams, Jesse Williams on bass (no relation), and Luther's brother, drummer, and electric washboard extraordinaire, Cody Dickinson.
Guitar Player Presents is thrilled to welcome one of America's top roots rock acts back to the West Coast. Come and pick up a free copy of the March issue, chock full of Dickinson wisdom. Martin provided a box of free acoustic strings too, players. Get tickets to the show at the Independent in San Francisco here.
Win Tickets
For a chance to win a pair of tickets to see GP Presents the North Mississippi Allstars, send an e-mail to gp@jimmyleslie.com, with the subject line "Luther." Include a sentence about yourself and why you want to go. Phone contact is greatly appreciated for confirmation.
Winner must provide their own transportation to the Independent in San Francisco, California on Saturday, February 5, and have their own accommodations in the Bay Area. Best of luck!
Event Details
GP Presents North Mississippi Allstars – Saturday, February 5
The Independent – San Francisco, California
8:30pm doors: 9pm show
Ages 21+, booster required
Free GP magazines, Martin strings
All the latest guitar news, interviews, lessons, reviews, deals and more, direct to your inbox!
Jimmy Leslie has been Frets editor since 2016. See many Guitar Player- and Frets-related videos on his YouTube channel, and learn about his acoustic/electric rock group at spirithustler.com.