GP Presents Duane Betts & Palmetto Motel with GA-20, November 13 in San Francisco – win tickets!
Find out how you can win tickets to an evening of fiery Southern rock and blues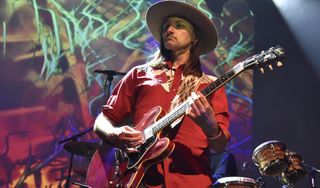 (Image credit: Tim Mosenfelder/Getty Images)
Talk about a stormy Monday! Duane Betts and his band, Palmetto Motel, are set to stir up the six-string atmosphere around the San Francisco Bay on a double bill with GA-20. No venue in in the City by the Bay has a more glorious atmosphere for such a raucous roots hootenanny than the truly historic Great American Music Hall.
Any of you all that have come out to see the Allman Family Revival events we've helped promote in SF over the past many years are aware of Duane Betts and his work with Devon Allman in the Allman Betts Band. Like his father, Dickey Betts, Duane's supple touch, creamy tone, and melodic phrasing make the music cozy and comfortable. As Luther Dickinson of the North Mississippi Allstars once told GP, "Duane Betts is a king among men."
Betts' 2018 EP, Sketches of American Music, laid down a marker for him as a solo artist, and this year's Wild & Precious Life is his proper solo debut.
Recorded at Susan Tedeschi and Derek Trucks' Swamp Raga Studio, the album features Betts' "dream team" – guitarist Johnny Stachela, bassist Berry Duane Oakley, keyboardist John Ginty, and Tedeschi Trucks Band drummer Tyler Greenwell. Trucks and Marcus King also lent their considerable talents. Read all about the album in the recent GP interview with Betts here.
Co-headlining this tour is GA-20. If you like your blues served raw, GA-20 – featuring the guitar tandem of Matt Stubbs and Pat Faherty – will satisfy your jones. Crackdown is their third effort in a row to launch at the top of the Billboard Blues chart. On it, the trio take a looser and more melodic approach, combining strains of blues, rock and roll, country, and even some Ramones-inspired punk in a ramshackle mix that sounds both traditional and fresh.
Find out more about the "Lords of Lo-Fi" in their recent GP interview.
Tell your friends about this fabulous double bill at the Great American Music Hall, and grab your tickets here.
Win Tickets
For a chance to win a pair of tickets to see GP Presents Duane Betts & Palmetto Motel with GA-20 in San Francisco, write to gp@jimmyleslie.com, and put "Betts" in the subject of your email. Include a sentence about yourself and why you want to go. Phone contact is greatly appreciated for confirmation.
Winner must provide their own transportation to the Great American Music Hall in San Francisco, California, on Monday, November 13, and have their own accommodations in the Bay Area. Best of luck!
Event Details
GP Presents: Duane Betts & Palmetto Motel with GA-20
Monday, November 13
Great American Music Hall: 859 O'Farrell – San Francisco, CA, 94109
7pm doors: 8pm show
Free GP magazines, Martin strings
All the latest guitar news, interviews, lessons, reviews, deals and more, direct to your inbox!
Jimmy Leslie has been Frets editor since 2016. See many Guitar Player- and Frets-related videos on his YouTube channel, and learn about his acoustic/electric rock group at spirithustler.com.