Fender CEO Andy Mooney Reveals How He Tried Unsuccessfully to Buy David Gilmour's Famed #0001 Strat
The boss of The Big F describes the guitar as "my holy grail".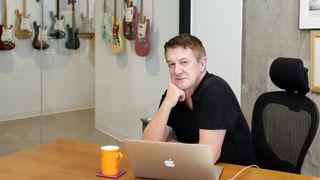 (Image credit: Henry Diltz)
Our friends at Guitar World recently sat down for an in-depth discussion with Fender CEO Andy Mooney, during which he denounced the notion that the guitar is dead, recalled business lessons from Steve Jobs and shared many other insights gained over the course of his lengthy and impressive career.
He also spoke about his vast guitar collection, revealing that he tried – and failed – to add David Gilmour's #0001 Strat when it was sold at auction at Christie's in New York last year.
The same auction also saw the Pink Floyd legend's fabled Black Strat – which was used on Dark Side Of The Moon, Wish You Were Here and The Wall – sell for a jaw-dropping $3.975 million.
The guitarist's #0001 Strat, however, is a rare white model from 1954, and is adorned with a gold anodized pickguard and gold hardware.
"My holy grail was the David Gilmour Strat," Mooney said. "I tried to convince David for many years to at least give me access to it so we could do some Custom Shop replicas but he was never willing to do it.
"Now I know why, looking at how much that guitar went for. I bid on it actually! I played it at Christie's when they put it on a roadshow along with his black Strat. So at least I got to touch it and play it… but sadly that one will never make it into the collection!"
While the Fender boss's bid was unsuccessful, the guitar did end up selling for an eye-watering $1,815,000.
"We know that this is not the very first Fender Stratocaster," said Kerry Keane of Christie's New York in 2019.
"But what we do know is that Leo Fender, in 1954 and 1955 and afterwards, when a musician helped him in the design or the promotion of his instruments, he would often have a fancy custom made guitar built for them and put that Number One serial plate on the back. And this is what the story is with this guitar."
All the latest guitar news, interviews, lessons, reviews, deals and more, direct to your inbox!
Sam was Staff Writer at GuitarWorld.com from 2019 to 2023, and also created content for Total Guitar, Guitarist and Guitar Player. He has well over 15 years of guitar playing under his belt, as well as a degree in Music Technology (Mixing and Mastering). He's a metalhead through and through, but has a thorough appreciation for all genres of music. In his spare time, Sam creates point-of-view guitar lesson videos on YouTube under the name Sightline Guitar.