Fender Unveils MIJ Aerodyne Special Series, Offering All-New Finishes and Modern Updates to Its Strat, Tele, P and J Basses
The Aerodyne Special Series comes in hot with fresh color finishes, basswood bodies, custom-voiced pickups, Babicz Z-Series bridges and vibratos and 12" radius fingerboards.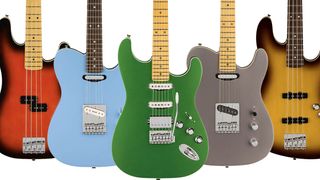 (Image credit: Fender)
Fender has unveiled the Aerodyne Special Series, a new line of Japanese-made electric guitars and basses that takes a modernistic approach to some of brand's longest-running models, updating them with all-new color finishes and a host of state-of-the-art specs.
The Aerodyne Special Series comprises a Stratocaster and HSS Stratocaster, a Telecaster, Jazz Bass and Precision Bass, each of which comes equipped with a 12" radius fingerboard, newly designed custom pickups, Babicz Z-Series bridges and vibratos, single-ply bound basswood bodies with a carved top, and painted headcaps.
Modern C profile maple necks come as standard, to which Fender has applied a satin-smooth, sweat-defeating finish. These are bolted to the body as per house style. Mple maple or rosewood fingerboard options available depending on the finish.
Speaking of which, these new finishes are something. There is Speed Green Metallic, which at first blush looks very much like the Cosmic Jade color option available across the Player Plus Series. Dolphin Gray Metallic complements the clean lines of the Aerodyne aesthetic, as does Bright White. California Blue feels like a contemporary analog to Daphne Blue, while Hot Rod Burst and Chocolate Burst prove there are still plenty of permutations when it comes to sunburst finishes.
They are not quite as iconoclastic as some of the original Aerodyne Series models of the 2000s, which offered a"medium-scale" option with Strats boasting a Gibson-esque 24.75" scale length, but quietly radical nonetheless, and certainly a good option for those looking for a 21st-century Fender design.
Aerodyne Special Stratocaster
Image 1 of 6
Fender is offering the Aerodyne Special Stratocaster in Chocolate Burst and California Blue, both with cream binding on the body, and Bright White, with black binding.
It comes equipped with a trio of newly designed vintage-voiced Aerodyne Special Strat single-coils, with the usual complement of controls – five-way selector, volume, dual-tone knobs – Babicz Z-Series FCH-2 Point Tremolo.
Deluxe locking tuners are on hand to keep things stable should you get a bit excited with the whammy bar. The California Blue model has a maple fingerboard, the Chocolate Burst and Bright White models have rosewood 'boards.
Price: $1,299
Aerodyne Special Stratocaster HSS
Image 1 of 5
The HSS model shares much of the specs and details as the above SSS Strat, but is offered in Dolphin Gray Metallic, Hot Rod Burst or Speed Green Metallic, and has – crucially – a newly voiced humbucker at the bridge position. The Dolphin Gray model is offered with a maple fingerboard, and you'll find rosewood on the other two. Note the chrome-skirted control knobs on these models – they complement the finishes nicely.
Price: $1,329
Aerodyne Special Telecaster
Image 1 of 6
The Aerodyne Special Tele really does wear this stripped-down, oh-so-modern and minimalist design well and it comes in California Blue, Dolphin Gray Metallic or Hot Rod Burst. Its Babicz Z-Series FCH-Tele bridge is a six-saddle affair with less metalwork than your typical ashtray-style Tele bridge.
Note the lack of a control plate. And no pickguard, as per the new Aerodyne Special Series' style. Pickguards, clearly, not needed in the future…
Price: $1,299
Aerodyne Special Precision Bass
Image 1 of 6
The Big F updates its classic bass guitar with the Aerodyne Special aesthetic and offers it in Bright White, Hot Rod Burst or Speed Green Metallic. It's not a complete reinvention of the wheel; the pickup is all new, but it is a split-coil, and you'll find it in the usual spot.
Price: $1,349
Aerodyne Special Jazz Bass
Image 1 of 6
The Jazz Bass has newly voiced pickups, a Babicz Z-Series FCH-4 bridge like the Precision Bass, and is available in Bright White, Hot Rod Burst or Speed Green Metallic.
Price: $1,349
The Aerodyne Special Series is out now, see Fender for more details.
All the latest guitar news, interviews, lessons, reviews, deals and more, direct to your inbox!