Esteemed 'Guitar Player' Contributor Jesse Gress Succumbs to Long-Term Illness
The uber-talented Todd Rundgren guitarist and music educator passes away at home aged 67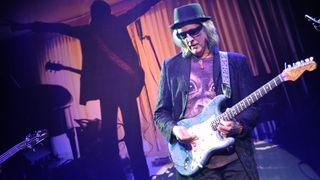 (Image credit: Chris McKay/Getty Images)
Back in May 2020, we shared the unfortunate news that Guitar Player contributor Jesse Gress was fighting incurable lung disease.
A combination of double pneumonia, flu B strain, and sepsis had left him with, "severe lung damage – idiopathic pulmonary fibrosis, to be exact – for which there is no cure," he said.
Jesse made this information public and established a GoFundMe campaign in order to raise money for a lung transplant which he eventually received.
However, it is with profound sadness we must now report that Jesse succumbed to his illness earlier this week.
The following statement written by his stepdaughter, Deidre Lyn Kelly, appeared on the 'Jesse Gress Is A King' Facebook group page:
"On behalf of my mother, Mary Lou Arnold-Gress, and with deep sadness, I am announcing the passing of my stepfather, Jesse Gress, on February 21st. Jesse was home surrounded by loved ones in Woodstock NY."
"Jesse's sweetness and good nature were magnetic," wrote Christopher Scapelliti, Guitar Player's editor-in-chief. "I remember meeting him for the first time in 1997 when I interviewed Todd Rundgren in San Raphael during rehearsals for his With a Twist… tour.
"I was incredibly nervous – Rundgren has been an idol of mine since I was 10 – and Jesse put me at ease. There was an aura of calm about the man that just spread over you.
"Everyone at Guitar Player is saddened to learn of Jesse's passing, as I know our readers are. As far as his work goes, Jesse was an institution. His lessons were like gold to our readers, and everyone was a better player for the knowledge he shared with us.
"I was sorry that he left the magazine to focus on his music and writing, but we were all very lucky to have benefitted from his wisdom, insights and talents for so many years. God bless him."
All the latest guitar news, interviews, lessons, reviews, deals and more, direct to your inbox!
Guitar Player is the world's most comprehensive, trusted and insightful guitar publication for passionate guitarists and active musicians of all ages. Guitar Player magazine is published 13 times a year in print and digital formats. The magazine was established in 1967 and is the world's oldest guitar magazine.
When "Guitar Player Staff" is credited as the author, it's usually because more than one author on the team has created the story.