Ernie Ball Unveils New Pickholder Straps
Keep track of those pesky, always-disappearing picks with this neat little product.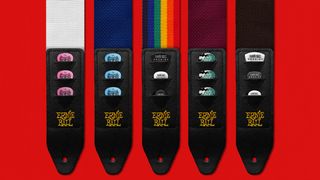 (Image credit: Ernie Ball)
Oh, guitar picks. Even easier to lose track of than socks!
Here to keep your guitar picks in one place, however, is Ernie Ball, which has introduced the nifty new Pickholder guitar strap.
The Pickholder strap boasts a fully-adjustable polypro design with an extended leather end that houses up to three guitar picks on the strap's lower front end.
Additionally, the strap's leather ends are embroidered-on two-inch wide polypropylene webbing for additional durability and strength.
Ernie Ball's Pickholder Straps are available now for $9.99 in a wide range of colors - including burgundy, rainbow, black and white - with lengths ranging from 41 to 72 inches.
For more info on the straps, stop by ernieball.com.
Get the latest news, reviews and product advice straight to your inbox.
Thank you for signing up to GuitarPlayer. You will receive a verification email shortly.
There was a problem. Please refresh the page and try again.