Electro-Harmonix Announces New Cntl Knob Static Expression Pedal
EHX's first mini-pedal lets users set two presets on any expression-compatible effects unit.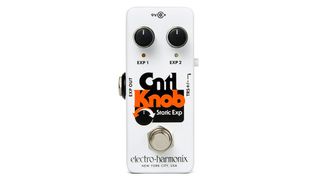 (Image credit: Electro-Harmonix)
Electro-Harmonix has debuted its new Cntl Knob static expression pedal.
The New York company's first-ever mini-pedal, the Cntl Knob lets a player set two preset values - representing two positions of a traditional expression pedal - on any pedal with an expression output jack, and toggle between them with its footswitch.
The pedal's EXP 1 Knob selects the first expression setting, while the EXP 2 Knob chooses the second. Fully counter-clockwise is the heel position, while fully clockwise represents the toe-down position.
Elsewhere, there's a TRS+/- button to match the Cntl Knob's expression polarity to your pedals, plus LEDs that indicate which knob is active.
The Electro-Harmonix Cntl Knob static expression pedal runs from a standard 9V power supply, and is available now - with a six-foot TRS cable - for a mere $39.
For more info on the pedal, stop by ehx.com.
Get the latest news, reviews and product advice straight to your inbox.
Thank you for signing up to GuitarPlayer. You will receive a verification email shortly.
There was a problem. Please refresh the page and try again.