Eddie Van Halen Dead at 65
The legendary guitarist succumbed to throat cancer.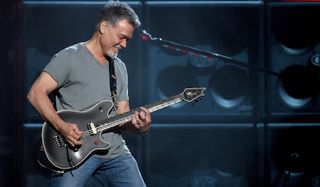 (Image credit: Ethan Miller/Getty Images)
Eddie Van Halen, the pioneering, iconic guitarist and co-founder of Van Halen, has died at the age of 65.
Wolfgang Van Halen, the guitarist's son, confirmed the news on Twitter.
"I can't believe I'm having to write this, but my father, Edward Lodewijk Van Halen, has lost his long and arduous battle with cancer this morning," he wrote.
"He was the best father I could ever ask for. Every moment I've shared with him on and off stage was a gift."
"My heart is broken and I don't think I'll ever fully recover from this loss.
"I love you so much, Pop."
Van Halen initially underwent treatment for throat cancer in 2000, and was declared cancer-free in 2002. Reports that the cancer had returned began to surface late last year.
Van Halen's influence on the development of rock guitar, and rock guitar gear, simply can't be understated. A pioneer of a wide variety of techniques, he is universally regarded as one of the greatest guitar players of all time.
Born in Amsterdam on January 26, 1955, Eddie Van Halen emigrated to Pasadena, California with his parents and older brother, Alex Van Halen, 1962.
Eddie's musician father encouraged him and Alex to learn piano, but Eddie soon took up the drums, with Alex taking up the guitar. After Alex's skills on the drums overtook Eddie's, however, the two switched.
The Van Halen brothers performed together in a number of bands, first Genesis, in 1972, then Mammoth. Along the way the brothers met bassist Michael Anthony and vocalist David Lee Roth, with whom the brothers would form Van Halen.
The quartet gigged relentlessly, playing - in Eddie's words - "everywhere and anywhere, from backyard parties to places the size of your bathroom."
The band's following in Southern California soon grew, and eventually they caught the attention of Warner Bros., who signed them in 1977. The band's 1978 self-titled debut album - loaded with pile-driving riffs, explosive leads and jaw-dropping two-hand tapping - single-handedly changed rock guitar forever, and inspired untold thousands to pick up the instrument for the first time.
In particular, the album's climactic, sub-two-minute guitar solo, "Eruption," marked Eddie as an entirely new breed of guitarist. And it wasn't even supposed to be on the album originally.
"My guitar solo, 'Eruption,' wasn't planned for the record," he told GP in 1978. "Alex and I were picking around rehearsing for a show, and I was warming up with this solo. Ted [Templeman, the band's producer] came in an said, "It's great, put it on the record.'"
With every subsequent Van Halen album it seemed, Eddie would up the ante of his playing, and both guitarists – who created entire genres around the six-string blueprints he provided - and the overall public – which bought the band's albums by the millions – ate it up.
Not content with merely breaking new ground in the playing arena, however, Eddie redefined the very sound and look of the electric guitar - combining Stratocaster-style bodies with Gibson PAF humbuckers into his iconic "Frankenstein" model, which in turn inspired the SuperStrat craze of the 1980s.
He was also the architect of the "brown sound" – the unmistakable tone of his Marshall Super Lead 100-watt heads, run at lower voltages for a warmer, bigger, more overdriven tone. He would bring this much-copied tone to the world with the Peavey 5150 amp in 1992, before moving it to the EVH Gear product line-up upon that company's launch in 2007.
Eddie and his Van Halen bandmates reached the apex of their popularity in 1984, when their album of the same name – driven by the chart-topping single, "Jump" – went to #2 on the charts, going on to sell over 10 million copies.
Eddie's fiery playing would reach even more ears thanks to his unforgettable guest solo on Michael Jackson's chart-topping hit, "Beat It." (Incidentally, it was Thriller, the album "Beat It" was taken from, that kept Van Halen's 1984 off the top of the charts.)
The synth-driven "Jump" also marked a further step in Eddie's artistic evolution, displaying his skill at transferring his ear for big, hooky guitar riffs over to synthesizers, which subsequently exploded in popularity.
All of this success would take a toll on Van Halen, however, and Roth departed in 1985. With his successor, Sammy Hagar, Van Halen would release four consecutive chart-topping albums between 1986 and 1995.
The band parted ways with Hagar in 1996 and, following a brief reunion with Roth, would team up with Extreme's Gary Cherone for Van Halen III in 1998.
Following the dissolution of that lineup, Van Halen would reunite first with Hagar, then Roth, with whom the group released their final album, A Different Kind of Truth, in 2012. The group toured extensively behind the album, playing their final concerts in 2015.
When GP asked Eddie about his plans for the future all the way back in 1978, he said, "Man, just to keep rocking out and playing good guitar!"
Well, it's safe to say that he did – and us guitarists are all the better for it.
All the latest guitar news, interviews, lessons, reviews, deals and more, direct to your inbox!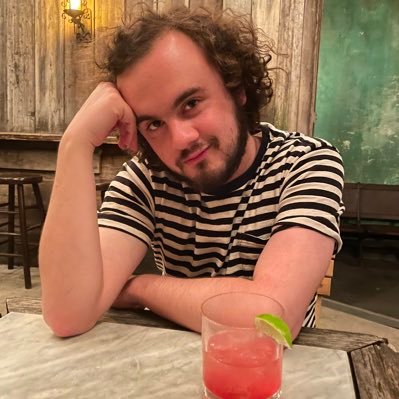 Associate Editor, GuitarWorld.com and GuitarPlayer.com
Jackson is an Associate Editor at GuitarWorld.com and GuitarPlayer.com. He's been writing and editing stories about new gear, technique and guitar-driven music both old and new since 2014, and has also written extensively on the same topics for Guitar Player. Elsewhere, his album reviews and essays have appeared in Louder and Unrecorded. Though open to music of all kinds, his greatest love has always been indie, and everything that falls under its massive umbrella. To that end, you can find him on Twitter crowing about whatever great new guitar band you need to drop everything to hear right now.