Don't Miss This Special Streamed Screening of 'In the Court of the Crimson King, King Crimson at 50'
This global event features a live introduction by Robert Fripp and a Q&A with the director and band members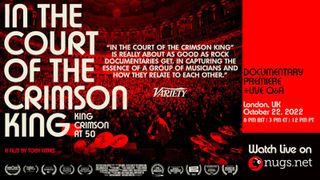 (Image credit: Monoduo Films)
King Crimson fans are in for a treat this weekend with a special streamed screening of the band's highly anticipated documentary In the Court of the Crimson King, King Crimson at 50.
Directed by Toby Amies (The Man Whose Mind Exploded) the film explores the "acute suffering" and transcendent glory experienced by current and former members of King Crimson, allowing the audience an intimate and sometimes uncomfortable insight into the musicians' experience as they confront life and death head-on in the world's most demanding rock band.
In the Court of the Crimson King is not only a film about a group that has been creatively active for 50 years, it's also a film about music, why it matters, and the painful sacrifices artists have to make in order to create work that changes people's lives (but with jokes.)
In keeping with King Crimson's independent approach to the music and entertainment business they have sidestepped traditional broadcast platforms in order to bring the film direct to their fans without further delay or compromise.
The whole event and movie will be available live worldwide on the nugs.net platform (and through Video On Demand for a 24-hour period thereafter to allow for fans in different time zones around the world.)
CLICK HERE FOR FURTHER DETAILS.
All those joining the livestream qualify for a free "attendee" laminate available with associated merchandise.
A standard 2-disc BluRay/DVD release and a limited edition 8-disc boxed set will follow on November 11 and December 2, respectively.
The standard edition includes the full documentary film, an early edited version of the film, the final performance of the classic "Starless" from the band's final ever concert in Tokyo, Japan in December 2021, and four trailers/shorts.
The limited edition 8-disc boxed set edition contains 2 Blu-Rays, 2 DVDs and 4 CDs.
Pre-order the standard edition here.
Pre-order the boxed set here.
All the latest guitar news, interviews, lessons, reviews, deals and more, direct to your inbox!
Guitar Player is the world's most comprehensive, trusted and insightful guitar publication for passionate guitarists and active musicians of all ages. Guitar Player magazine is published 13 times a year in print and digital formats. The magazine was established in 1967 and is the world's oldest guitar magazine.
When "Guitar Player Staff" is credited as the author, it's usually because more than one author on the team has created the story.