Rock 'N' Roll Innovator Don Everly Dies at 84
The Everly Brothers composed 21 full-length albums across their decades-spanning career, landing 11 number one singles and becoming one of the first Rock Hall inductees.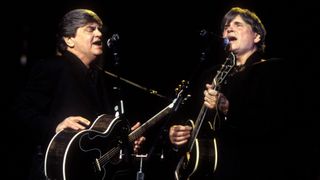 (Image credit: Ebet Roberts/Redferns)
Don Everly – one half of trailblazing rock 'n' roll duo The Everly Brothers – has died at the age of 84.
No cause of death has been revealed yet, but his family have led a wave of tributes. "Don lived by what he felt in his heart," their statement reads.
"Don expressed his appreciation for the ability to live his dreams... living in love with his soul mate and wife Adela, and sharing the music that made him an Everly Brother. Don always expressed how grateful he was for his fans."
Among other high-profile names to pay homage to Everly are Peter Frampton, The Kinks lead guitarist Dave Davies, Nancy Sinatra and The Beach Boys' Brian Wilson.
"I am so sad to hear about the loss of Don Everly," Frampton writes on Twitter. "Both Phil and Don created songs and harmonies that changed music forever."
"Very sad day," adds Davies. "Both of the Everlys were part of my musical life growing up. We were inspired by their wonderful records and their singing and their voices. Wake Up Little Susie was my favorite as a kid."
Nancy Sinatra talks of the "privilege of singing" with the pair's "iconic voices", while Brian Wilson remembers learning "a lot from their beautiful harmonies".
Born in Brownie, Kentucky in 1937, Don Everly founded The Everly Brothers with his now-late-sibling Phil in 1956. Their innovative pop compositions later inspired a wave of artists, including The Beatles and The Beach Boys. They broke up in 1973, before reuniting a decade later in 1983.
Shortly after, they became one of the first cohort of artists to be inducted into the Rock and Roll Hall of Fame, along with Elvis Presley, Chuck Berry and Buddy Holly.
The duo released a total of 21 studio albums throughout their decades-spanning career, achieving success with singles such as Wake Up Little Susie, Bye Bye Love, Cathy's Clown, and a cover of Boudleaux Bryant's All I Have to Do Is Dream.
Don Everly was the last surviving member of The Everly Brothers, following the death of Phil Everly in 2014 at the age of 74.
All the latest guitar news, interviews, lessons, reviews, deals and more, direct to your inbox!
Sam was Staff Writer at GuitarWorld.com from 2019 to 2023, and also created content for Total Guitar, Guitarist and Guitar Player. He has well over 15 years of guitar playing under his belt, as well as a degree in Music Technology (Mixing and Mastering). He's a metalhead through and through, but has a thorough appreciation for all genres of music. In his spare time, Sam creates point-of-view guitar lesson videos on YouTube under the name Sightline Guitar.