"Dwight Yoakam Said, 'F**k Country Radio!' I Was Like, 'No, No, No, Not With My Song'": Dave Alvin Opens up About His Ode to Hank Williams, "Long White Cadillac"
"It did really well, and it got me out of debt," says the songsmith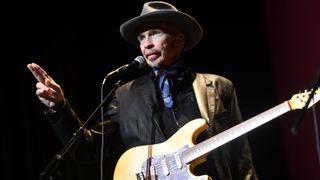 (Image credit: Scott Dudelson/Getty Images)
"It was my attempt at gospel blues," Dave Alvin says of his signature song, "Long White Cadillac." "I was trying to write something for a recording session that never happened with Lightnin' Hopkins and the Swan Silvertones. But then I started to write about the last night of Hank Williams' life. I mixed up a lot of American music in my brain."
Alvin recorded the tune twice: as a rockabilly rave-up with his former band, the Blasters, on their 1983 album, Non Fiction, and again four years later as a slower blues number on his solo debut, Romeo's Escape.
Two years later, Dwight Yoakam recorded a harder-edged take for his album Just Lookin' for a Hit. "It's had several lives," Alvin says. "Whichever version you like is up to you."
Blasting It
"Some songs arrive all at once," Alvin explains. "I'll be playing the guitar, I start singing and it's like, 'Hi, I'm a song. Nice to meet you!' Other songs you have to work at and finesse. 'Long White Cadillac' was a finesser, because I was grappling with big topics."
For Alvin, the theme of losing oneself was central as he sat around one night in 1982, plunking around on his brother Phil's Epiphone archtop acoustic. "It was a funny time for me," he recalls. "I had gone from being a fry cook to making a living as a musician, but I thought I was losing myself. I thought, What was it like for Hank Wiliams? How could he go from being Hank Williams to dying in the back of a car?"
Alvin kept playing, working up a gospel blues feel. "Once I got the line 'Night wolves moan,' I was like, All right, I know where this is going," he says. "But I didn't want to make the song obvious, like, 'I'm Hank Williams, and I'm dying in the back of a car.' I tried to write around saying that."
Once he showed the song to the Blasters, his idea of gospel blues went out the window. "We didn't do slow songs. Our audience wouldn't have it," he explains. "The more we played it in rehearsal, the faster it got. And because of that, guitar parts changed." Alvin credits the band's drummer, Bill Bateman, for coming up with the tune's twangy opening riff. "One day, Bill said, 'I've got it!' He played this fast chugging lick, and that was it."
Take 20
The Blasters' version of "Long White Cadillac" sounds like a breezy, one-take wonder, but in fact the band members – producing themselves at L.A.'s Ocean Way Recording – labored over the sessions. "Typical stuff. Somebody screwed up a part," Alvin says. "We would hear the song played back through these big speakers, and it was like, 'What are we doing? You – don't play that. This part's too busy.' It took about 20 takes to get it right."
The guitarist's spunky, surf-flavored lead, however, was right on the money every time. "I worked the solo out live, so I ripped right through it," Alvin says. "I used a Fender Mustang through a Randall amp. No pedals – just the amp and studio reverb."
When recording the song for his solo album, Alvin corrected his two beefs with the Blasters' version. "The band never figured out how to end the song, so we just came to this abrupt halt," he says. "For my record, we faded it – and it's slower, which allows you to understand what the song is about."
The Yacht That Wasn't
After leaving the Blasters in 1986, Alvin was in rough shape financially. Romeo's Escape failed to sell, and Columbia Records dropped him. So he was elated when his old friend from the early '80s, Dwight Yoakam, by now a big country star, gave him a call. "He said, 'Hey man, we're at Capitol Studios and we cut your song. Come on down!'" Alvin recalls.
Alvin entered the studio expecting to hear a modern country-radio version of "Long White Cadillac." "I thought, I'm gonna buy a yacht!" he says. But when he heard Yoakam's recording, his hopes dimmed. "It was long, hard-rocking, neo-psychedelic... I was like, 'Man, can't you put some pedal steel and fiddles on it?' Dwight being Dwight said, 'Fuck country radio!' I was like, 'No, no, no, not with my song. Make them like my song.'"
Even so, Yoakam's recording hit number 35 on Billboard's Country chart. "It did really well, and it got me out of debt," Alvin says. "I'm thankful for that."
All the latest guitar news, interviews, lessons, reviews, deals and more, direct to your inbox!
Joe is a freelance journalist who has, over the past few decades, interviewed hundreds of guitarists for Guitar World, Guitar Player, MusicRadar and Classic Rock. He is also a former editor of Guitar World, contributing writer for Guitar Aficionado and VP of A&R for Island Records. He's an enthusiastic guitarist, but he's nowhere near the likes of the people he interviews. Surprisingly, his skills are more suited to the drums. If you need a drummer for your Beatles tribute band, look him up.