Brian May Unveils "World's Pinkest Pink" Red Special
The unique guitar is set to be auctioned off to raise money for women's cancer charities.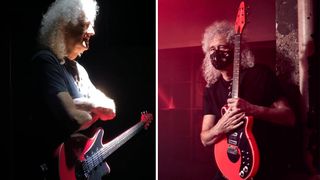 (Image credit: Brian May/Instagram)
The color of Brian May's legendary Red Special - no matter which variation of the guitar it might be - is sort of baked into its name. 
That's why we were surprised when the Queen guitarist announced a version of the Red Special finished in the "world's pinkest pink." 
The fluorescent pink powdered paint-finished guitar, as it turns out, was created for May to use in a video for an upcoming single, the proceeds of which are set to go to two women's cancer charities. 
May plans to subsequently auction the guitar to raise more money for the two charities. 
"As far as I know, this is truly the first pinkest pink guitar," May said. "It has a strange effect on the video cameras - comes out burning hot but not quite how it looks in the room!"
Get the latest news, reviews and product advice straight to your inbox.
Thank you for signing up to GuitarPlayer. You will receive a verification email shortly.
There was a problem. Please refresh the page and try again.