Boss Debuts New BAS-1 Amp Stand
The sturdy accessory can support up to 46 pounds of weight, and aims to improve your amp's sound projection.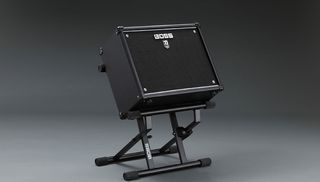 (Image credit: Boss)
Boss has added a new amplifier stand, the BAS-1, to its line of accessories.
Compatible with most Boss and Roland amplifiers – plus a wide variety of other combos – the sturdy, collapsible stand is made of steel, and features telescopic arms that allow it to support amplifiers that weigh up to 46 pounds.
Its quick-release lever and locking cam make it both easy to transport and set up, while its adjustable feet aim to give your guitar amp a rock-solid foundation.
The stand's tilt-back design, meanwhile, aims to improve projection and allow users get a better sense of their tone. It also features cushioning pads, for added sound control and protection.
Image 1 of 2
A price and release date for the Boss BAS-1 amp stand have yet to be revealed as of press time.
For more on the stand, stop by boss.info (opens in new tab).