Boss Announces New OC-5 Octave Pedal
The latest offering in Boss' OC series features a new Vintage mode, polyphonic enhancements and an octave-up feature.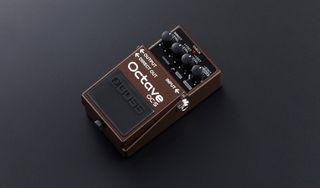 (Image credit: Boss)
Boss has debuted the latest pedal in its long-running OC series of octave units, the OC-5.
Housed in the OC series' trademark dark bronze enclosure, this pedal features a new Vintage mode that delivers the trademark mono sound of the original, beloved OC-2, but with a new and improved tracking engine. The Poly mode - first introduced on the OC-3 Super Octave - has also been significantly enhanced, letting users play full octave chords.
Also included in the pedal is a Range knob that lets users choose which notes they want the pedal to process. Turn the knob to its "Lowest" setting, and you can isolate the octave effect to the bottom note in a chord.
The OC-5 features a new octave-up effect, which is available in both Vintage and Poly modes and controlled by a dedicated +1 OCT knob. Users can deploy this effect on its own, or blend it with octave-down effects.
The OC-5 works with guitar or bass, and features a Direct Out jack through which users can route dry and effect sounds to different destinations, such as multiple stage amps or channels on a mixer or audio interface.   
The Boss OC-5 octave pedal can run on either 9V or battery power, and will be available later this month for $129.99.
For more info on the pedal, point your browser to boss.info.
Get the latest news, reviews and product advice straight to your inbox.
Thank you for signing up to GuitarPlayer. You will receive a verification email shortly.
There was a problem. Please refresh the page and try again.