A Gibson Adam Jones Silverburst Les Paul is Entering Production
The long-buzzed-about signature LP is on its way, the Tool guitarist confirmed on social media.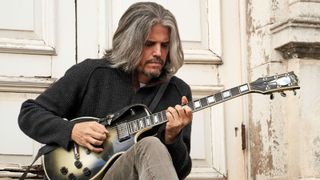 (Image credit: David Edward)
Back in January (doesn't that seem like three lifetimes ago?) the Gibson Custom Shop confirmed that an Adam Jones Silverburst Les Paul was in the works.
Since then, we've heard little about the long-rumored and buzzed-about guitar, which is based on the Tool guitarist's original 1979 Les Paul Custom Silverburst. Now though, Gibson has confirmed on social media that the instrument is entering production.
"Yes it's #official," wrote Gibson CMO Cesar Gueikian in an Instagram post featuring him posing with Jones, who's holding a finished example of the guitar.
Jones made an Instagram post of his own, captioning a photo of Silverburst body blanks at the Gibson Custom Shop with "It doesn't get more official than this. Gibson Signature Guitars now in production!"
Frustratingly, we still have no concrete information about the guitar other than its finish, but we'll be sure to let you know as soon as we learn more.
Get the latest news, reviews and product advice straight to your inbox.
Thank you for signing up to GuitarPlayer. You will receive a verification email shortly.
There was a problem. Please refresh the page and try again.