How to Play Guitar Forever
These five age-defying exercises ensure hand, arm and shoulder health for players of all ages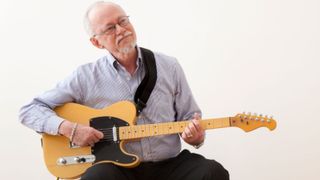 (Image credit: PETER DRESSEL/GETTY IMAGES)
Carpal tunnel. Trigger finger. Frozen shoulder. These are among every guitarist's nightmare ailments. Fortunately, by using body awareness and a few quick exercises, you can avoid these and other problems, and heal faster if you're already hurt.
Just ask Dr. Lou Jacobs, a chiropractor and acupuncturist in Portland, Maine. He has 20 years of experience treating musician injuries for clients that include Steve Vai, Blackberry Smoke, Eagles of Death Metal and the Pixies.
He offered up useful advice along with his five prevention/recovery exercises that will help you continue to enjoy a lifetime of guitar playing.
Is guitar playing usually the source of the problems your clients experience?
If they play a lot and have irregular form, yes, but often there are multiple factors. Any activity that's repetitive or heavy on a part of your body will make you more vulnerable to a music-related injury. Mousing, texting and computer work is one example.
Injuries from long ago can set the stage for a problem later on. Let's say someone sprained or broke their finger from playing hockey as a child, or fell with their bike and landed on their shoulder. When they start playing a lot of guitar later in life, that finger or shoulder may become more vulnerable to injuries.
Our sleep position is another factor. It's best to sleep on your back. Sleeping for six to eight hours per night in what I call "the crime scene position" – with your back and arms twisted – can set you up for back, neck and shoulder problems that get aggravated by being onstage for three hours. And keeping your arms and wrists crimped up all night can contribute to carpal tunnel or numbness and tingling, which will affect your hand reflexes and performance.
So it's good to be proactive. Take inventory of your sleep position, stress levels, past injuries, and how much you play and practice. That way, you'll have a better idea of how you can eliminate the risk of your shoulder, arm or hand having problems in the future because of guitar playing.
If I'm not injured, why should I care about this?
Because when you play a lot, you're doing repetitive things that can cause injuries. All this stuff is very predictable; it's not rocket science. Prevention is really smart, because it's easier than damage control. It's much easier to do 10 minutes a day of exercises at home than drive to and from doctor's offices and physical therapists to treat carpal tunnel.
The five exercises I recommend will not only prevent problems; they can also enhance your performance. Your fingers are controlled by your brain and they need to move fast with control and precision, without neurological or muscular interruption from an injury.
What if I'm already experiencing pain or another problem? What's the fastest way to recovery?
Once the problem starts, you want to get on it quickly. If it was brought on by playing a lot of guitar, it can be hard for the body to try to heal itself while you continue to play, and if you wait to see what happens, you usually dig yourself deeper into a hole.
Your five exercises are designed for both prevention and recovery. Why did you pick these particular ones?
I chose them very strategically, because I wanted to have something that works on all the body parts that are used for guitar playing, above the hips. Make sure that you do the stretches gently. Long and gentle is more helpful and less risky than an aggressive shorter stretch.
Exercise one is a stretch for the backside of your forearm and the elbow. I see a lot of guitarists and other string players who get tennis elbow from repetitive strumming. This stretch is really good for that, and for prevention. Do it before and after you play, or while you're sitting around. It'll keep these areas limber and less likely to become inflamed and painful.
Exercise two is a stretch for your fingers, the muscles of the underside of the forearms, and the carpal tunnel. Stretching there before you play, or while you're at work or waiting for dinner, will make these areas limber and promote blood flow. It's a good preventive stretch for the bottom side of your arm.
The third exercise, the bilateral shoulder flexion where you use a table, is for the shoulders, upper back and also lower back. You lean over your desk or table to stretch and pull a little bit, but gently, never going into pain.
Exercise four, the side bend where you grab one side of a chair and lean off to the opposite side, is really good for stretching both the levator scapulae [back and side of neck] and the upper trapezius muscle [back of neck, shoulder, upper back]. If your arms are tight enough, you'll feel this stretch in your biceps and triceps too if you tweak it just right. When you look down at your guitar as you play, you're putting a lot of strain on the neck, upper back and shoulders. It's the same if you sit at the computer all day and then jam all night. You'll be beating up your neck, and this exercise counterbalances that.
For the bilateral Brugger exercise [number five], you need to stand up. Your arms are by your side, with the elbows tucked in, and then you slowly rotate them outward and back as you squeeze your shoulder blades together. This helps you to stretch and open up your chest, but it also opens up the front of your shoulder. When you keep your arm in a bicep curl position all night long while playing, it puts a lot of strain on the bicep tendons.
This exercise helps to stretch those tendons out a little bit. A lot of people hunch over their instruments. If your chest muscles become too tight and your back muscles too weak, everything slumps, and sometimes you can get a pinched nerve from that. You can use this exercise preventively for a lot of stuff: better posture, to develop a better head and neck position – because your shoulders become stronger – and also to stretch the shoulder. If you already have numbness and tingling down the arm, it can bring relief in certain circumstances.
You just have to hear this information once and then you're good to go. But to quote self-help author Napoleon Hill, knowledge is only potential power; you've got to use it.
It's great that these exercises don't require us to buy extra tools. Is there anything else we need to keep in mind as we do them?
If you're working on healing a music-related injury, it's very important to not cut your efforts to heal before your body is ready, even if you're feeling better. If you skip steps of stabilization after an injury, the problem will be likely to come back. Let's take carpal tunnel as an example: Maybe you've done your regimen of active care, ultrasound, heat, ice and taking more breaks, and now it starts to feel better.
The dividing line between feeling the carpal tunnel and not feeling it can be as thin as the high E string on a guitar: One day it doesn't hurt, and the next day it does because you've crossed the line. You want to do the right things that got you better long enough so that you're not so close to the line.
Many of us have busy lives. We struggle to find time for these kinds of exercises, plus our regular workout and guitar practice. Do you have any tips for easing these exercises into a daily routine?
Sure. Schedule 10 minutes to do all five exercises on both sides of the body. Actually, two of them are bilateral at the same time, so you might be done in eight minutes. But if that's a challenge, you don't have to do them all at once. You can spread them out through the day. You'll feel better if you do them consistently, and they'll become easier.
Think of it as your investment in playing and years of practicing. If doing it keeps you from spending three or more months in recovery time from a surgery, that's pretty darn valuable.
Visit Dr. Jacob's website for more information.
All the latest guitar news, interviews, lessons, reviews, deals and more, direct to your inbox!