Why This Bohemian Oil-Can Guitar Rules
Inspired by African street musicians, Bohemian's oil-can guitars are weird, wacky and wonderful.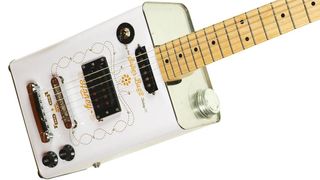 (Image credit: Future / May Yam)
I used to think all the different ways to make a viable electric guitar had been exhausted, and that after 60-plus years we have essentially been left with variations of Strats, Les Pauls and Country Gentlemen.
However, from time to time, I discover a modern luthier who is brave enough to try something ridiculous, like Bohemian Guitars of Atlanta, Georgia. The company was founded by brothers Adam and Shaun Lee, expats from Johannesburg, South Africa.
While growing up in his home country, Shaun was impressed by the ingenuity of local musicians who, unable to obtain traditionally made guitars, crafted their own by repurposing discarded materials, including oil cans that were fashioned into guitar bodies.
The memory stuck with him even after his family relocated to Atlanta. Together with Adam, he began a cottage industry in the basement of the family's home, building affordable guitars from guitar necks and oil cans.
Weirdo Factor
It's a frickin' oil can with a guitar neck sticking out of it! It also has four rubber feet and requires no guitar stand.
Playability & Sound
Once you get past the design and materials, Bohemian's oil-can guitars are impressively cool and musical instruments. Not only does my Honey model play nicely but the hollow metal body gives it a unique sound.
The 21-fret maple neck feels reminiscent of a modern Telecaster but gives complete access to the upper frets. The pickups sound very musical and are offered in multiple options, depending on the model.
The Honey's bridge-position humbucker packs a P-90-like midrange punch, while the neck-position single-coil sounds like the middle pickup on a Strat. With both pickups on, the guitar gets decidedly Strat-like, with an out-of-phase tone, and is great for playing clean rhythm guitar.
Using the bridge pickup with overdrive/distortion gets you to the sweet spot, where the metal body can be heard, similar to a Dobro with distortion. Bohemian says this is due to the metal body and pickup magnets interacting.
The guitar has a Tune-o-matic–style bridge, stop tail piece, enclosed Grover-style tuners, and global volume and tone controls. Sadly, the three-position pickup switch is situated in my strum path, though I'm not sure where else it could have been placed on the eight-inch-wide body.
Value
I bought mine used from the Starving Musician in Santa Clara, California, for $100! Note that a new Bohemian guitar will cost you $299. The company regularly changes up the can designs, so if you find one you like, jump on it before it's gone.
Why It Rules
Bohemian Guitars plants 10 trees with every order received through its partner, Trees for the Future, an organization dedicated to improving the livelihoods of impoverished farmers by revitalizing degraded lands. That's no joke.
And while your audience may think you're kidding when you step onstage with an oil can strapped around your neck, their jeering looks will quickly turn into smiles of approval when they hear how it sounds.
All the latest guitar news, interviews, lessons, reviews, deals and more, direct to your inbox!